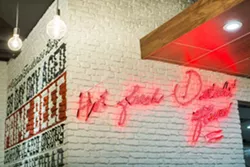 Over the summer Chef Brennan Calnin embarked on helping to open one of the most anticipated downtown restaurants this year: Townhouse Detroit. We visited the place a number of times and surmised that it was a destination of unapologetic extravagance. We heard from service staff there that the spot was extremely difficult to work for, given the huge layout, elaborate menu and exhausting crowds.

Calnin made the announcement in a Facebook post today, saying his leaving was bittersweet.
Posts Calnin: "I have never worked so hard towards something in my life and I'm incredibly proud of everything we accomplished. I'm sure everyone is wondering where to next? I'm not sure just yet. I'm going to take some well needed time off to rest and get myself to the place I'd like to be both physically and mentally. To all the chefs and cooks out there keep grinding and don't ever lose sight of your goals or aspirations. Thank you."

We have to say we weren't the least bit surprised to learn of his departure. Which is not to say that we didn't admire his cooking. When we reviewed the place in September we raved about the burger and the delightful elk that wades in blackberry gastrique.

But we also said that Townhouse had its flaws, which seemed to have been to be out of Calnin's hands. Ninety-minute wait times were a norm early on, servers, bartenders, and hosts looked on the verge of exhaustion to keep up with the crowds (the spot opened with full lunch, dinner and brunch service all at once instead of staggering them out). And the menu's concept, with its confusing dim sum cart that had little representation to actual dim sum, seemed equally overwhelming.

We reached out to both Calnin and the PR firm that handles Townhouse's publicity. Neither immediately got back to us. We'll certainly follow up if we hear back from either party.

UPDATE: We heard from the PR handlers for Townhouse, who say Chef Michael Barrera, who works at the Birmingham outlet, will take over for the time being.

"Chef Brennan was a vital part of our opening team and we wish him all the best in the future. We are excited that Michael Barerra, Corporate Executive Chef of Townhouse, will be taking over responsibilities of both locations," a Townhouse rep tells us via email.