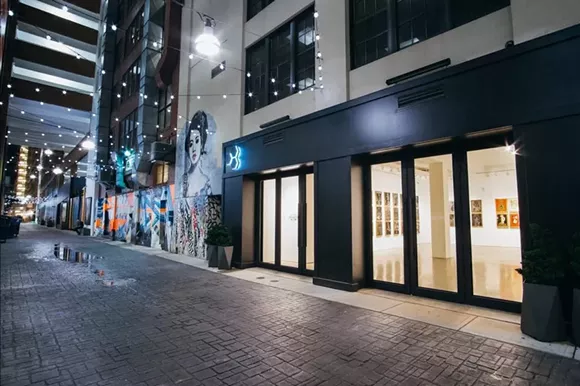 Remember last summer when Antietam opened to wild acclaim, only to abruptly close a few weeks later when the kitchen crew, including chef Brendon Edwards and bartender Joe Robinson walked out in dramatic fashion? Well the pair has since regrouped and are inching closer to opening the doors to their new passion project, Standby. This Friday and Saturday, they'll host their first set of dinners during an exclusive menu tasting.
We reported back in November when Antietam reopened its doors, sans Edwards and Robinson, that owner Gregory Holm seemed intentionally cryptic about the departures. Just before the Eastern Market restaurant's return, Edwards, in an interview with Eater Detroit, hinted at this new concept when he hosted a pop-up dinner at Yemans Street in Hamtramck. He called it "a labor of love."
Those in-the-works plans were revealed to the Freep's Sylvia Rector last month. The duo, along with developer and gallery owner Anthony Curis and David Goldman, will open Standby, described as a "stylish cocktail bar and restaurant," and Skip, "an outdoor bar recessed into the alley wall" in the Belt, that mural-laden alleyway next to the Z parking structure downtown. They're supposed to open by Sept. 1.
Over the past few weeks, Edwards and Robinson have been ramping up hiring efforts, saying on Facebook, "We're cultivating a challenging and engaging work environment where we believe the key to our success is the advancement of our employees."
The chosen space is intriguing. The Belt is really only an alley, but it's an alley that abuts the Z garage, owned by Dan Gilbert's Bedrock. The iconic street artist Shepard Fairey, who (ironically?) turned himself in recently for defacing abandoned Detroit properties, was commissioned by Gilbert to paint an 18-story mural on the One Campus Martius building. While in Detroit his work also became a permanent fixture to the Library Street Collective's "Public Matter" outdoor exhibition venue - in the Belt. And then there are these additions, which from their descriptions, seem to fit in with the space's controlled chaos aesthetic. We're excited to see how this new venture shapes up in the coming weeks and even more interested in how they'll add to their surroundings.