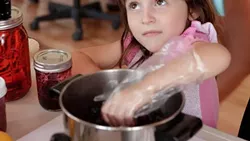 If you've been wanting to learn more about the story behind Bangladeshi cuisine, you may want to check out this event coming up in Detroit's Banglatown neighborhood, just north of Hamtramck. As you may know, this section of the city's east side has transformed over the years into a destination for Bengali immigrants. It is also becoming known as a community embracing of creatives, including the performance company, the Hinterlands, which is organizing the event.
At the
"Tactile Taste of Banglatown" presentation
, guests are invited to "reawaken your sleeping food memories and taste the food stories" in this ad hoc kitchen. Taste, audio and visual will mashup in this interactive event. The show was created by artist-in-residence Carmen Wong. Visual/object design is being handled by Shoshanna Utchenik and sound design by Richard Newman.
This hands-on event is being held 6-9 p.m., Friday, Sept. 4 and 5-9 p.m., Saturday, Sept. 5 at the Play House at 12657 Moran St. Organizers say entrance into the event will take place every half hour and is limited to 10 people at a time, so make sure to make a reservation by email (
[email protected]
) to save a spot, and also a $5-$10 donation is suggested.