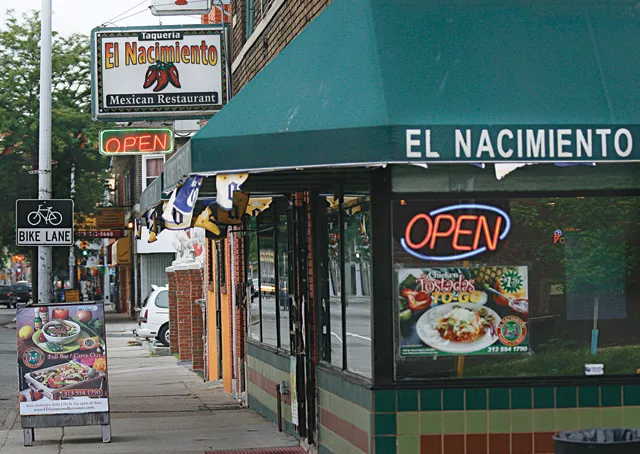 Taqueria El Nacimiento
7400 W. Vernor Hwy., Detroit
313-554-1790
Handicap accessible
Prices: $4-$9
Salsa music is pumped through several speakers, fútbol is on flat screens around the room, and the tables are adorned with liter-sized bottles of Corona. Such is the scene inside Detroit's Taqueria El Nacimiento.
Situated on the north side of Vernor Highway about two miles west of the off-ramp for "Mexicantown," El Nacimiento's storefront blends in a bit with the other local businesses, but the giant gated parking lot stands out along the busy street side.
More festive than raffish, the interior glows from the televisions and the assorted neon signs hanging around the restaurant amid the assorted Mexican-themed decorations. A Good Humor chest freezer sits along the window to the open kitchen, and one can peer through to a mountain of Jarritos sodas available in every conceivable flavor. Locals wander in and out to pick up their carryout orders.
Order the salsa tray ($1 to $3) and you'll get a basket of corn chips with a trio of options for dipping: The pico de gallo is chunky and fresh; the guacamole is whipped to complete smoothness, which in this case doesn't make it any less delicious; and the brick-red salsa is as seductively smoky as it is spicy.
Inexpensive tacos ($1.25 to $1.75) and burritos ($4) are available with mostly the same fillings, a long list that demonstrates an embrace of every part of the animal. In addition to readily available options such as chicken or beef, diners can order tripas (beef stomach), cabeza (beef head), lengua (beef tongue), buche (pork stomach), or chorizo and egg, among others.
The tacos and several of the other smaller menu items can also be ordered in multiples as a dinner platter. Tacos always arrive in a corn tortilla unless one asks for flour, and while neither is among the best that southwest Detroit has to offer, both options are entirely satisfactory. Tortas and burgers — a conspicuous offering notable only because they come with sour cream among the toppings — round out the less expensive portion of the menu, all at around $4 apiece.
Consider starting with a tostada or sope, especially if you're in the mood for a larger meal. The seafood tostada ($2) comes topped with a generous heap of tart, oniony ceviche. Sopes are available with a choice of several meats, and each comes topped with lettuce, tomato, and reassuringly uneven shreds of queso fresco. The shell for the sopes is dense and heavy — a knife is definitely helpful — but simultaneously flaky and not at all overcooked.
Taqueria El Nacimiento puts its best foot forward with its dinner options. While there are a few dishes that aren't always successful — the grilled steak can be quite tough, for example — almost everything is worth the very reasonable prices.
In particular, at only $7, the carne de puerco en salsa verde (pork in green sauce) is outstanding. Braised to a tenderness that barely requires a fork — let alone a knife — big chunks of bone-in pork are smothered in a tangy, warm tomatillo salsa. As with most of the other dinner plates, the pork is accompanied by a trio of beans, rice, and a lettuce and tomato salad.
As with the taco, burrito and tortas fillings, there's a wide selection of meats available for the dinner plates, though there are several other classic Mexican dishes to choose from as well, including breaded chiles rellenos and enchiladas with beef, chicken or cheese.
Soups and stews here are unsurprisingly robust, both in terms of size and flavor. The pozole is especially delicious — rich, smoky, and chock-full of pork.
Fire, and by extension smoke, is a quintessential method of imparting flavor in Mexican cooking, and that is clear throughout much of the menu. In addition to some of the salsas and stews where roasted flavors play an important role, the incomparable flavor of chipotle is critical to the camarones a la diabla, a traditional dish of shrimp in diabla sauce, a smoky, orange-red sauce made mostly of vegetables; the most expensive dish on the menu, it's still only $9.99.
The menu seems to go on forever, with a significant portion of it dedicated to a wide array of drinks, desserts, and drinks that are desserts. None of it stands out, but everything is solid.
El Nacimiento offers fruit juices, horchata, limonada, sangria, a few Mexican beers, and tequila drinks. The standard margarita is a bit sweet, laden with sugar and generic sour mix. But as with just about everything here, it's large and inexpensive, so it's difficult to find much room for complaint.
For those looking to satisfy a sweets craving, they also offer thick milkshakes and, to the surprise of everyone in one evening's dinner party, malts. Dessert choices include such classics as flan ($2) and a dense tres leches ($3), the well-known sponge cake soaked in evaporated milk, condensed milk and heavy cream.
Taqueria El Nacimiento doesn't serve anything that could be described as exciting. But in a region that seems to support mostly strip mall Tex-Mex joints, this fun neighborhood spot in southwest Detroit is providing good food at great prices. And that's certainly worth getting a little excited about.
Hours are 9 a.m.-midnight Sunday through Friday, 9 a.m.-3 a.m. Saturdays.
Taqueria El Nacimiento in southwest Detroit.