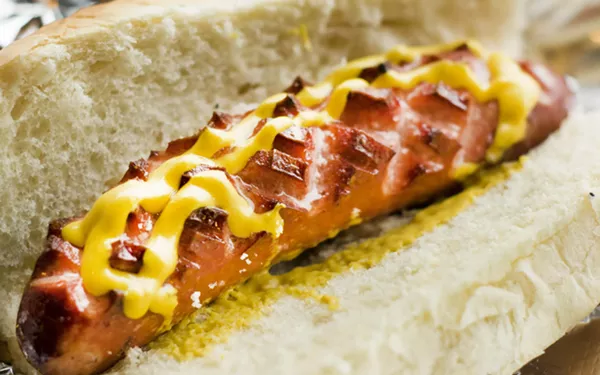 When you think of hot dogs in Michigan, the first thing that pops to mind is the coney. But in many cases, those aren't dogs made with high-quality ingredients, and a hot dog in metro Detroit prepared as they are in New York or Chicago is a rare find.
Al Winkler — of the Bread Basket Deli/Al's Famous Deli empire — is planning to fill the gourmet hot dog market when he opens Doggy Style, "A red hot joint," at Elizabeth Lake and Telegraph roads.
He'll use all-natural, all-beef, Sy Ginsberg-brand hot dogs that weigh in at a quarter of a pound. They'll be charred on a grill instead of steamed, providing a different hot dog experience from what we're used to in metro Detroit.
You'll find options like the Big Apple Dog (sauerkraut and brown mustard), the Chicago Dog (tomatoes, diced onions, sport peppers, neon relish, pickles, mustard, and a dash of celery salt on a steamed poppyseed bun), or the Dog from Hell (spicy giardiniera pepper mix and coleslaw).
On the side, Doggie Style will offer mac and cheese, loaded baked potatoes, Frito pie, and other "simple, easy comfort foods."
"There's a huge hot dog market in a lot of places around the country, and I want a simple operation. We can do that here," he says.