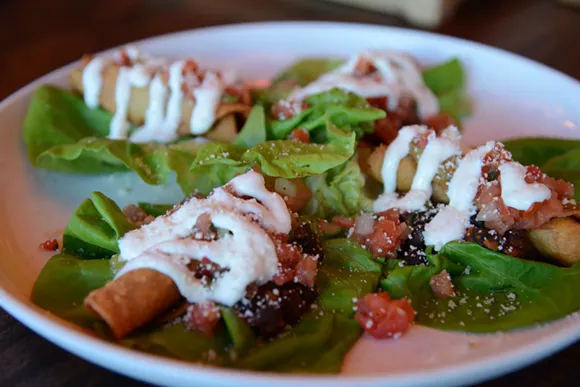 Seems the Peas & Carrots Hospitality Group is finding its groove as it continues its expansion of eateries.
In this case, that means expanding the restaurant concepts that are succeeding and nixing the ones that aren't. On Dec. 16, the MEX restaurant will open its second location, at the Great Lakes Crossing Outlets in Auburn Hills. The "upscale" take on Mexican cuisine opened its first location in 2013 in Bloomfield Hills.
Several of the menu items found at the original MEX will remain, along with a number of new offerings, like a chicken enchilada casserole and new shrimp and steak tacos.
The 6,000-square-foot space will be located at the entrance of the shopping center's District 6, near the Legoland Discovery Center. The kitchen is headed by executive chef Mark Barbarich, while front-of-the-house will be overseen by GM Bill Butler.
Co-owned by Zack Sklar, Josh Humphrey and Jim Bellinson, Peas & Carrots also operates Social Kitchen & Bar in Birmingham, Beau's Grillery in Bloomfield Hills, and Bernie's Lunch & Supper in Chicago. Earlier this year, a second Social Kitchen opened in Grand Rapids.
On the chopping block earlier this year, were two short-lived restaurants under the hospitality group's umbrella, Au Cochon and Arthur Avenue. Both shuttered within a year of opening next to each other in Birmingham in 2015.
See also: Detroit Restaurants Openings & Closures: November 2016

See also: Social Kitchen to make its way to Grand Rapids