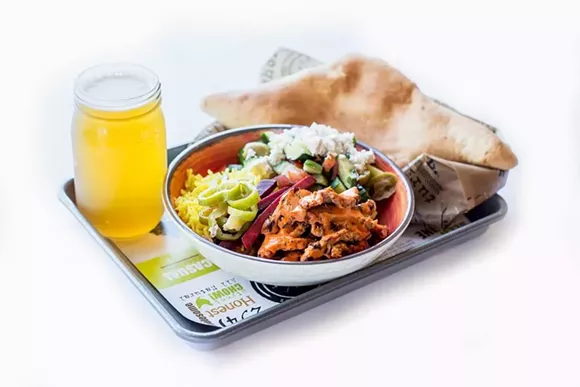 We recently learned that Midtown is supposed to welcome a new restaurant
this week
, 2941 Street Food, which
uses
such cringe-worthy descriptions as "fresh approach" and "modern twist" in outlining its menu of Middle Eastern and Mediterranean-inspired cuisine.
Lesson No. 1, don't talk down on the deliciousness that makes up the countless Middle Eastern restaurants throughout metro Detroit.
Crain's
says
the restaurant is part of a growing chain, co-owned by Joe Vicari (Joe Vicari Restaurant Group of Andiamo's) and chef Jacques Van Staden, an has been likened to the Chipotle of Middle Eastern food. Like the Mex-inspired chain, diners choose between a sandwich, bowl, or entrée, along with what kind of protein, rice, or sauce they want.
With its first location already in Rochester Hills, the chain is opening at 4219 Woodward Ave. in Midtown, followed by locations in Birmingham, and eventually will have 25 locations in Michigan, before it ventures to other regions of the country.
So before too long, strip malls across the country will have added 2941 Street Food outlets to their existing lineup of Starbucks, Chipotle, and Panera Bread. We can't argue if the food is good and the demand is there, expand away.
We're certainly not saying that you have to be from a Middle Eastern country to make the food, but if you're going to do it, don't talk as if you're reinventing the pita bread. Some fine examples of modern takes on the cuisine include the delicious pop-up series this fall at Detroit City Distillery for Samesa, a new Brooklyn restaurant founded by metro Detroit brothers Max and Eli Sussman. The duo tested out their menu that pays homage to the Detroit area shawarma spots they grew up with, with hits like the Za-atar rubbed chicken wings and fish kofta po'boys. Then there's Brome Burger in Dearborn, which takes the traditions of halal meat preparation and applies it to the classic American burger.
Neither claim their concepts are an improvement, but are rather interpretations of how both Middle Eastern and American cultures have influenced their palates.
For Van Staden's part, he's no slouch in the kitchen. He got his training at the coveted Culinary Institute of America in NYC, scored a James Beard Foundation nomination, and has worked in a number of high-end eateries, including as master chef for Celebrity Cruises.
We'll have to check this spot out when it opens its Midtown location to give the food a final verdict. For now, we'll say, show some respect to the many metro Detroit Middle Eastern eateries who've laid the ground work before you.
See also:
Acclaimed Sussman chef brothers return to Detroit to head pop-up series
See also:
Brome Burgers & Shakes