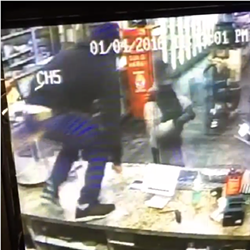 If you've ever stepped inside Marcus Market in Midtown you've noticed that it's decidedly brighter, cleaner, and has more options for all manner of groceries and booze than other party stores. You may also notice that the checkout counter feels, well, a lot freer, more open.
That's because the bulletproof glass found in most liquor stores is retractable there and the clerk's there often move it to the side. It gives the place a more welcoming vibe, no doubt.
Just make no mistake, if you try mess with the workers there they aren't afraid to fight back.
Case in point, a Jan. 4 post on the store's Instagram account shows just what happens when one man callously reaches across the counter and snatches a laptop sitting on top. A momentarily stunned clerk then leaps over the counter top as the man starts to walk away and lands a punch to the man's face as the clerk is still mid-air.
The social media response so far is positive, with posters applauding the unnamed clerk's choice of recourse.
Take a look for yourself:
We're just seeing this now (Tuesday night), so we've not reached out to police yet to see if anyone was arrested. But we'll be sure to follow up and keep you posted on the outcome of this encounter.