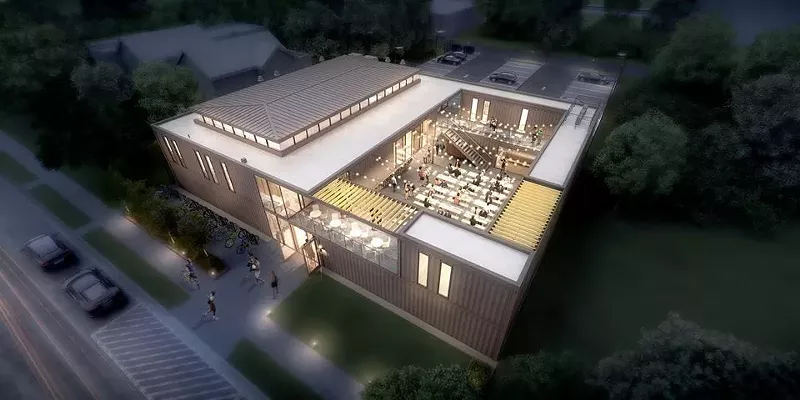 Cass Corridor shipping container food hall Detroit Shipping Co. will open in late May, likely around Memorial Day.
When it's completed, 21 repurposed shipping containers will compose the roughly 12,000-square-foot space. Its tenants include Motor Burger, Bread Meats Bread, Brujo's Tacos and Tapas, Coop, Bangkok 96, and nitrogen ice cream and coffee maker Minus 320.
The space was supposed to open in October but the crew ran into some setbacks, and weather has primarily delayed it this year, says Petro Drakopoulos, Detroit Shipping Co.'s director of operations and Brujo's owner.
"The construction schedule got pushed back a bit and the weather is not helping, but it's one of those situations where we're pushing to open as quick as possible," Drakopoulos tells us. "We're shooting for Memorial Day and we might be doing some events here and there before that."
The project is a product of owners Jonathan Hartzell, James Therkalsen, and architect Dominic Walbridge, who started work on it in 2015. They recently brought on Drakopoulos — who also owns Berkley's Republica — to help manage the operation.
So many restaurants, so little time. Find out the latest Detroit dining news with our weekly food newsletter delivered every Friday morning.