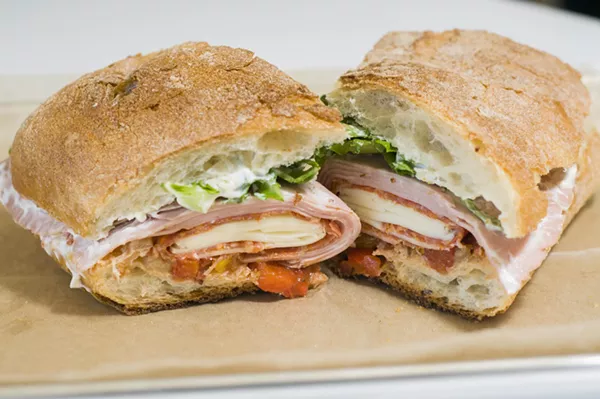 For all the range you'll find in Midtown's menus, the neighborhood lacks much in the way of delis. And with the exception of La Pecora Nera near downtown's Capitol Park, Detroit proper is pretty much deficient in Italian delis — the kind that stacks mortadella, salami, capicola and prosciutto on crusty, rustic Italian bread — and that's not a good thing.

But that changes on Tuesday when Rocco's Italian Deli opens in the Cass Corridor. Owners Gabe Guido, Jeff Guido, and Kyle Mrkva grew up in Dearborn eating at Alcamo's Market and other old Italian delis, and they tell Metro Times they're creating a similar experience.

"The concept was sort of borne out of a love of specialty Italian foods, and a lack of a specialty Italian deli around here," Gabe Guido says. "After growing up in a big Italian family in close proximity to one, I moved [to Detroit] and found that there isn't access to that Italian deli experience."

"Those neighborhood joints kind of inspired us set up something here that's similar," Mrkva adds.


Gabe Guido and Mrkva, who have lived in Corktown and Cass Corridor for several years, are opening the 2,000-square-foot shop with Jeff Guido, who recently moved back to Detroit from Philadelphia. They say Rocco's will be "approachable and affordable," which means sandwiches mostly under $10.

Among the short but tight list is the Il Rocco (hot sopressata, mortadella, fontina, spicy red pepper relish, and garlic-lemon aioli on ciabatta) or A Love Letter To The Corner Deli (Genoa salami, capicola, mortadella, sharp provolone, tomato, onion, shredded lettuce, house-made vinaigrette on a sub bun). Rocco's offers a fennel sausage laid on an Italian "football" bun with sautéed onions, sautéed red and yellow bell peppers, garlic, and olive oil. There's the requisite prosciutto sandwich, and as any good Italian should, Rocco's has an awesome beef and giardinera sandwich, Tio Freddo's Got Serious (slow-cooked Italian beef, sharp provolone, and a housemade, quick-pickled giardiniera on a sub bun).


Aside from the sandwiches, you'll find four salads like the Whenever You're Feeling Blue (crisp pear, crumbled gorgonzola, mixed greens, red onions, honey almonds, and house vinaigrette). The deli case will be stocked with pre-prepared items like blistered tomato pasta salad made with fresh basil, parmesan and garlic; quick pickle giardiniera; and Italian potato salad with caramelized onion and red peppers. Desserts like a carrot cake cupcake and lemon bars are also made in house.

All Rocco's breads come from Michigan Bakery, while meats are sourced from the Eastern Market's Ernst Meats. On the drink menu, the restaurant will offer San Pellegrino; coffee and espresso; a selection of craft cocktails and beers; and wines.

"We're going to try to get our customers to branch out a bit into the Italian wine world and try Sangiovese blends, Montepulciano, Nero D'Avola, and Trebbiano wines which all go really well with our cured meats and cheeses," Mrkva says.


The idea for Rocco's started as all the best ideas do — at home in the kitchen over sandwiches. Notably, none of the crew have any real previous restaurant experience. Jeff Guido says they simply learned through osmosis growing up in a big, Italian family, while Mrkva says he started cooking after watching shows like Iron Chef. But you wouldn't be able to tell that they don't come from a culinary background.

Gabe Guido says they spent the last few years experimenting, hosting pop ups, and taking on catering gigs to gauge peoples' interest levels.

The sandwiches got a positive response, and a $50,000 Motor City Match grant followed. That helped make the 25-seat brick and mortar restaurant that gleams with white subway tiles, marble, stainless steel and natural wood possible.

"We really wanted to pick materials that help highlight the food," Mrkva says.

The restaurant also includes a small bar and 25-seat patio, along with a huge mural on the outside wall. As for the name, Rocco is Gabe Guido's great grandfather. He moved to Detroit in the early 1900s before opening up a gas station at Lafayette and 4th Street in the 1960s, and at some point operated a Delray bar called Il Rocco.

"Both came to America like millions of others expecting nothing more than a square deal. That meant working hard but getting a fair payback in return. No place offered a better chance than Detroit. The city gave my family its start. And Rocco's gives us an opportunity to pay some of that back, on their behalf," Gabe Guido says.

Rocco's is located at 3627 Cass Ave., Detroit. Roccosdetroit.com




So many restaurants, so little time. Find out the latest Detroit dining news with our weekly food newsletter delivered every Friday morning.