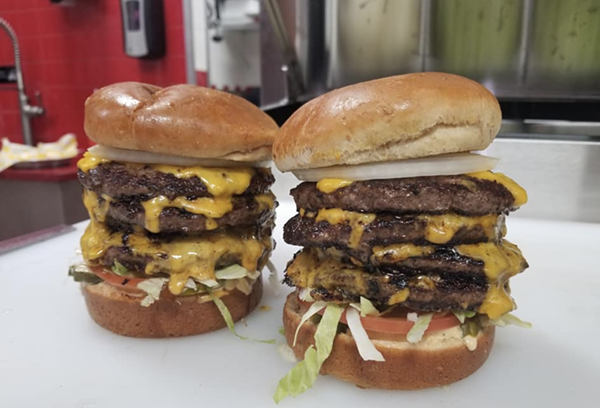 California Burgerz, a new spot modeled after California's In-N-Out Burgers, is up and running in Hamtramck. Owner Hani Omasan, who runs the nearby Top Gearz used car lot, says that means a short menu with beef that's ground in-house, fries cut from potatoes in-house, and fixings that are fresh every day.
The menu is short and straightforward and, at the very least, the menu items' names have In-N-Out beat. Check out the Gorilla Burger (Angus beef, pickles, lettuce, tomato, caramelized onions, and American cheese on a pretzel bun) or the chic L.A. Bacon Burger (Angus beef, bacon, pickles, lettuce, tomato, grilled onions, American cheese, and CB sauce on a brioche) or the hefty Quad CB Burger (four Angus beef patties, pickles, lettuce, tomato, onions, and American cheese, CB sauce on a brioche).
Omasan also offers four Gorilla Sliders for $9.99, or $12.99 for a combo with a pop and fries. For those who don't want the beef, there's a crispy chicken sandwich and a veggie burger. Fries come in four varieties – regular, curvy, cheese, and gorilla – and CB serves five types of shakes.
Omasan previously told us that California Burgerz is also there for Hamtramck's teenagers, who have few places to hang out. The closest burger spot where kids go for fun is the Five Guys Burgers and Fries at 12 Mile and Mound roads, and he wants Hamtramck's kids to be able to stay in town.
"We're trying to be something where teenagers can come to sit down and have a decent burger with fresh patties," he said. "The city doesn't have a good, nice burger place where teenagers can have a nice, decent meal."