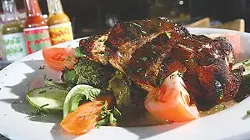 Though born from a small population of exiled French-Canadians in coastal Louisiana, Cajun cuisine has managed to become so mainstream that it's possible to find some peculiar product claiming "Cajun spiced" dangling in nearly every gas station snack rack across the country. In its truer form, it's simply a rustic, spirited and distinctly regional fare that suggests something of the exotic for most of us. For the past decade, Howe's Bayou in Ferndale has been serving up dishes of this alluring food and more. 
Partnered at the outset with Tom Brandel of Tom's Oyster Bar repute but now sole owner, Michael Hennes has managed to make Howe's a fun restaurant without resorting to novelty, amusement park-like attractions. So there are New Orleans-flavored prints on the wall and a plea to "let the good times roll" in Cajun French above the bar, but the atmosphere is laid-back and even the music has relaxed from what was originally hyper-tempo Mardi Gras parade tunes and New Orleans jazz to mellow folk rock or whatever happens to be in the bartender's iPod late in the evening. 
Dressed with dark wood panels, tables and a long, graceful bar, the slender space is cozy under low-hung ceiling fans, quiet lighting and the frequent call of employees greeting their regular customers. It is precisely this ambience of local watering hole-meets-quality food that chain restaurants always claim in their television advertisements and generally only independent ones can achieve. 
All but the most fainthearted of eaters should try the crawfish boil. A pound of whole crawfish in a pot of steaming hot, aromatic and heady broth imbued with handfuls of spice is one of the finest restoratives we know. There isn't a whole lot of meat in the tails but the juice that you suck out of their little bug heads is powerfully tasty stuff and worth the effort.  
If you're not so bold, order the crunchy and mild deep-fried popcorn crawdad tails or the more refined crawfish cakes. Naturally, fish and shellfish prevail in any coastal cuisine, and out of the 20 or so items on the appetizer menu only a few are non-seafood and one of them is alligator sausage. Howe's doesn't consider itself a small plates restaurant, but it's easy to make a meal out of one or two of them. We are particularly taken with a bowl of mussels in a spicy Creole-style chunky tomato sauce with a side of crusty bread for dipping. A cup of creamy crawfish bisque is equally good with a pleasant pepper heat, although the side of cornbread tends to be somewhat dry on occasion. 
Out of the 10 "po' boy" sandwiches served on a French loaf with fresh Southern slaw, we frequently order the one packed with sweet and tender pan-fried Andouille sausage-encrusted oysters. The blackened catfish po' boy is our second choice. All of the sandwiches come with a side of thick, house-made potato chips. 
The dark roux-based crawfish étouffée is a good choice off the entrée menu, though there have been times it hasn't had the deep, roasted-nut essence you expect from that preparation. You can get it with shrimp too. But, frankly, what is the point when crawfish tails have so much more flavor?
Pasta dishes are crowd favorites as well as the meats prepared with Howe's "Voodoo" barbecue sauce, consisting of a chicken base, Worcestershire sauce, fresh rosemary and cream. The sauce is rich and tangy with nice heat if a little heavy on the Worcestershire. The entrée menu is varied, with everything from unsophisticated red beans and rice with Andouille sausage for $10.95 to a plate of grilled lamb chops for $22.95. There's a list of sides to pair with your meal, including collard greens and corn maque choux. 
Though small, the drink lists are carefully considered. There are no bottles of wine costing more than $30 and the selection is surprisingly diverse. Michigan beer is well-represented with tap handles, but it would be a mistake not to try a glass of dark and drinkable Abita Turbodog from Louisiana. There are plenty of different bourbons to sip on and a few unexpected house cocktails, such as the oyster martini with vodka, a splash of bloody Mary mix and, of course, an oyster. You can even get a Sazerac — America's oldest cocktail. 
So many places call themselves a bar and a restaurant and so many of them lack the attention to detail in one area or the other — if not the pair. Howe's Bayou is solid in both aspects and beyond that, just a comfortable spot to spend an evening.
Todd Abrams loves popping bug heads. Send comments to [email protected]