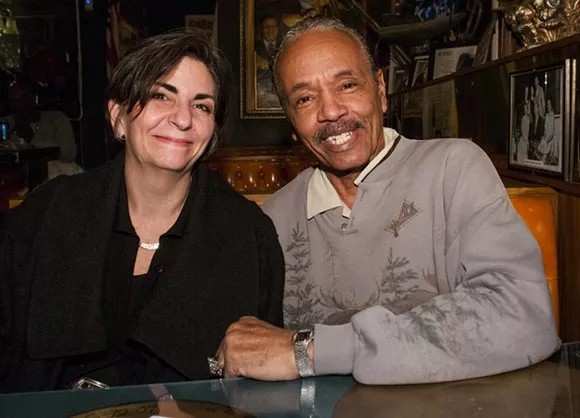 Few spaces in Detroit are as well-loved as the little corner of downtown Larry Mongo created in Café D'Mongo's Speakeasy. After re-opening ten years ago, the weird but still accessible bar is nearly iconic, yet still feels like sort of a secret.
The latter is partly the result of it only opening Thursday through Saturday evenings, and, naturally, everyone wants more of a good thing. Good news: Mongo tells
MT
that extended weekend hours are likely for 2017. He declined to offer more details, but he added that he doesn't expect to be open seven days per week.
"I'm retired. I'm happy with my life. I've been working since I was 14. I was married at 18, and I'm still with the same wife. I'll be 67 in March. It's time to enjoy what they promised me as a young person. I want to spend more time with my wife — quality time," Mongo says. "I don't care if I'll make $1 million — I'm not opening more than a few days."
So what does that mean? Mongo says to stay tuned for more news.
And while we're talking about Cafe D'Mongo's rumors, we've been hearing whispers that the club will expand to the building's now largely unused second story and rooftop. Not so, says Mongo. Instead, he plans to lease the 1,700-square-foot space to a group of investors who envision a 'high end,' exclusive concept.
Though we pressed hard for details, Mongo is bound by a confidentially agreement and remained tightlipped. "I own my building," he says. "Certain people visited this space, and they have this confidence in Detroit … and they made me an offer that I couldn't refuse. I like the people who I'm going to partner with, and they made me an offer I couldn't say no to."
He adds, "That's it. I can't tell you more. If I do, then I'll get sued and sued. They'll have my body in court even after I die."
No one wants to see his corpse in court, so we'll respect his wishes and wait for an official announcement, but it appears 2017 is shaping up to be a big year for the D'Mongo's family.
And all that comes after a highly successful conclusion to 2016. In November, Mongo, his wife, Dianne, and Sanford Nelson, a customer-turned-friend and business partner, launched a new grilled cheese menu that far exceeded expectations in popularity — they grill around 100 sandwiches each evening.
Sanford selects the bread and cheeses from Avalon and DeVries, respectively, and the simple menu is composed of two fixed items and a weekly special. The fixed options include the "Government Cheese" made with American and challah; and the "White Boy Rick" made with fontina, white cheddar, and Havarti on white bread. Each comes with tomato soup, ranch, an old-style pickle, and an apple slice.
This week's special was the Red Hot Chili Pepper (in celebration of the band's big show at The Joe on Feb. 2, and their rumored Feb. 3 visit to D'Mongo's). It's made with habanero jack cheese, jalapeño Havarti, and guacamole between two pieces of farm bread, and is delicious.
"My wife has always told me about pairing these different cheese varieties … and she and Sanford started pairing all them and they were good. I had no idea!" Mongo excitedly says. "Then I come to my club one day and (Sanford) is standing there with a big, giant grill, and he said 'I talked to your wife. I'm cooking grilled cheese,' and I just sort of looked at him.
"But I swear this thing is taking off! I had no idea that grilled cheese was that popular! The only time I seen one before is the lock up in jail, and I didn't like it."
Also in November, a portrait of Mongo shot by Detroit photographers Chris and Michelle Gerard was included in a collection of large photos in the Fisher Building arcade meant to honor the city's "everyday heroes."
How'd Mongo react to being labeled an "everyday hero?" "I looked at my wife and kissed her and told her 'Thank you,'" he says. "My wife made me who I am. She's the best thing that ever happened to me."