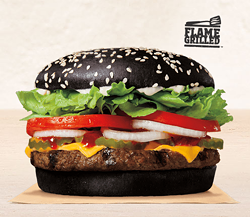 Remember that
black-bunned Japanese Burger King Whopper
that swept through social media a couple of months ago? It looks like BK U.S. has finally found an appropriate marketing campaign to bring that unsettlingly dark bread to Americans for Halloween. Those devils.
Now through Nov. 1 at all Burger King locations, you can order the
"deliciously dark" Halloween Whopper
. BK has partnered up with A.1. Steak Sauce to bake the Thick 'n Hearty version of the sauce right into the bread (yielding both the black color and 80 more calories), and they slather the patty in A.1. too.
While the Japanese version of the black bun was made by adding squid ink and bamboo charcoal to the recipe, the U.S. version's color is a product of America's favorite additive, high-fructose corn syrup. Yum.
No word yet whether next year's Halloween Whopper will also feature the black cheese and black ketchup, nor whether the creepy menu item will be here to stay, but you know the saying: Once BK goes black ...