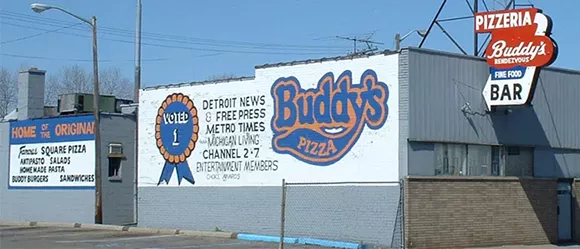 Despite what the classless twits at
The New York Post
say about Detroit-style pizza — for those who don't know, the daily rag called it a "hipster horror" — the square-shaped pies hold a special place in the hearts of many a Detroiter.
And if you grew up eating pizza in Detroit, you grew up eating Buddy's. We've told you all about
the history behind the pie
— though a quick primer (courtesy of our food writer Serena Maria Daniels):
"Buddy's Rendezvous on McNichols and Conant, founded by Gus Guerra in 1936. Around ten years after the end of World War II, the speakeasy was looking to add food to keep drinkers on their barstools, so Guerra settled on Sicilian-style pizza. Blue steel rectangular-shaped pans that had previously been used to store nuts and bolts at a factory were the pizza pans. They never rust and, like a seasoned cast iron skillet, they're never actually washed, meaning bits of previous pizzas permeate throughout the dish."
This year, the iconic pizza chain celebrates its 70th anniversary and is inviting the public to share their favorite memories through it's Growing Up Buddy's campaign.
"Buddy's Pizza has been successful for so many years because of you, our fans! Help us celebrate our 70th anniversary by answering the questions below," the website where you can share your #GrowingUpBuddys experiences reads.
Questions range from 'who introduced you to Buddy's?' to 'what has Growing Up Buddy's meant to you?' and answers are being shared on the Buddy's social media throughout the rest of the year.
Buddy's fans can also delight in new customer appreciation cards, which grant cardholders six months' worth of coupons good for $7 8" square pizzas and 70 cent toppings. The cards are available at any of the 11 locations until they run out.
To share your #GrowingUpBuddys memories, visit
http://buddyspizza.com/Blog/Growing-Up-Buddys
.