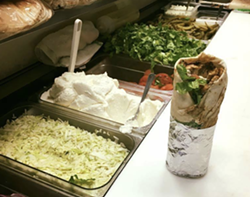 The newest Bucharest location is up and running today.
Eater
reports that owner Bogdan Tarasov said the restaurant will open for business this this afternoon at 19492 Livernois Ave.
Like its other three locations on East Jefferson, in Milwaukee Junction, and in Corktown, the newest Bucharest will trade in shawarmas, specialty hot dogs, salads, and other Middle Eastern fare.
it joins a growing list of Livernois Avenue eateries or soon-to-open restaurants that includes Kuzzo's, 1917 American Bistro, Social Sushi, Paradise Cafe, and more.