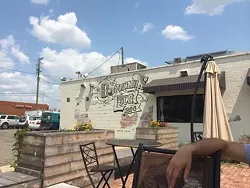 When writer Aaron Foley blogged
about his dining experiences in "New Detroit" over the weekend, calling out several popular restaurants, the reaction was immediate and strong. Readers either agreed, such as Facebook user Jacob Korte who said: "I frequently suffer from hipster service in Detroit. It doesn't get much worse than when you are being served by someone who thinks they are too cool to be a server."
Others, like reader Erin Elizabeth differed in opinion: "Who cares. Stop being a perfectionist when "enjoying" the dining experience and let it go. Instead of passive aggressively writing an article, why not try communicating with the staff? 'No, I'm not done.' 'Actually, I would like to order something else.' Speak up, or be unhappy, like it seems he wants to be."
Perhaps the best reaction though came directly from a restaurant owner, who wrote an open letter to Foley and Metro Times. Here's what Deveri Gifford, co-owner of one of the targeted restaurants, Brooklyn Street Local, had to say via Facebook:
An Open Letter to Metro Times and Aaron Foley and the
Last Wednesday morning I looked around the restaurant and realized that I knew all of the customers here. I knew everyone because they come in and hang out for hours, with a book or a laptop or just to sit at the counter and shoot the breeze. I felt so happy because that was the exact environment that I had wanted to achieve when we opened the Brooklyn Street Local, a neighbourhood place where people feel comfortable and welcome and they know they are always going to see a friendly face.
It is because of this that I feel so saddened by your experience this weekend, rushing customers out is the exact opposite of our intention. I am really sorry that you felt rushed and felt like you could not stay and enjoy the morning on the patio. I recognize that when you were brought the bill that intention was not communicated to you, an issue which I have addressed with our staff. It is important to me that you know that you are always always welcome to have another iced tea and hang out and enjoy your morning.
It is ironic (by the way if I am using "ironic" incorrectly I do apologize, please remember that I am Canadian and learned my definition from Alanis)… it is ironic because I share the same pet peeve! It drives me nuts when servers bring the bill without asking if I would like anything else. Not that long ago I was in a Detroit restaurant and was brought the bill without being asked. I had wanted to order dessert and felt annoyed and a little disappointed because I had wanted to treat myself. So I absolutely understand where you are coming from and I am embarrassed that it happened in our restaurant!
I hope that you will come back and enjoy a breakfast with us again and know that you are always welcome to stay as long as you like.
I would also like to encourage everyone to bring up any issues regarding their experience here with me immediately, I always want to hear from customers, whether it is good or bad!
Sincerely
Deveri Gifford
Co-owner, The Brooklyn Street Local LLC.
We called her up after reading the letter and she told us that working out issues in service is a conversation that she and other business owners deal with on a regular basis, given the dramatic influx of demand from diners to try many of the newer restaurants in town.
"I think it's tough sometimes. He mentioned Green Dot, and I totally understand their policies," Gifford told us. "They are always busy, so they have to have policies in place to make things run smooth.... When you've got people waiting, you're constantly trying to figure out what is the best way to do this."
Foley told us he's glad to see BSL's Gifford react the way she did. "It shows healthy dialogue — it shows that we can talk about dining experiences without attacking one another, and shows that we can make it better for everyone, for both diners and restaurants."
Foley's criticisms of the dining scene got us wondering, what are the experiences of those of you who work in the service industry? How do you deal with the constant rush? Are restaurants equipped to manage the crowds? And what are your gripes about the "New Detroit" dining customer? Let us know.