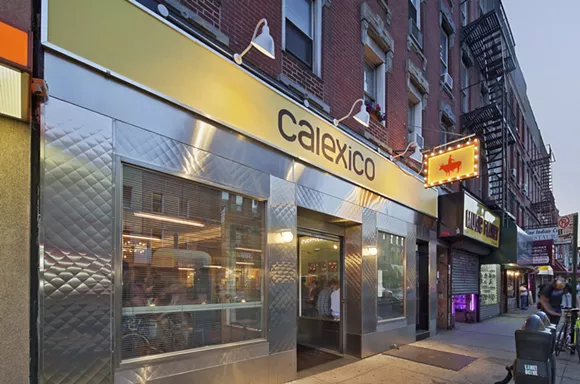 Downtown is to welcome Calexico, a taqueria-style eatery, this summer inside the former home of Olga's Kitchen in the One Campus Martius building - an offering that will also introduce among the first "elevated" late-night dining options for downtown.
The award-winning establishment - which serves California-style tacos, burritos, elotes (roasted corn on the cob), cocktails, and other Mexican-inspired fare - will launch as soon as mid-summer, said Randy Dickow, who partnered with the Brooklyn-based restaurant.
Dickow, along with two of Calexico's partners, David Vendley and Pete Loeyer, and Bedrock Real Estate Services VP Dan Mullen, made the announcement Tuesday.
"It is such a unique product, I cannot wait for everyone to try it," Mullen told reporters inside the 4,000-square-foot ground level space on Woodward at Gratiot.
Dickow is already a longtime Bedrock tenant. He co-owns Lunchtime Global in the Dan Gilbert-owned First National Building and Freshii Detroit in the 1001 Woodward building. He says the spot will be open late - until 2 a.m. - Thursday through Saturday.
The space had sat empty since September when Olga's Kitchen abruptly exited, just months after the popular Troy-based chain filed for Chapter 11 bankruptcy.
The sprawling space could breath new life for the building, which currently houses Hard Rock Cafe and Texas de Brazil steakhouse. Walk around the block just a few short years ago and the place would be mostly void of foot traffic, in particular at those boxy-looking chains that face Campus Martius.
When Olga's left the space, Mullen had vowed to find the right fit to replace it, giving preference to another restaurant.
Dickow, already a fan of Calexico, approached Mullen about the concept and the VP immediately took interest and flew to Brooklyn to check it out.
The restaurant was founded 10 years ago by Vendley and his two brothers Jesse and Brian - natives of the California border town that the spot is named after. The brothers had moved to Brooklyn from the west coast, bringing with him his grandmother's recipe for carne asada.
Calexico started as a food cart, slanging tacos and burritos that utilized that family recipe. It soon caught accolades when it earn two Vendy Awards (considered the "Oscars" of street food). It now includes three carts and four locations in Brooklyn and Manhattan.
Of the move to Detroit, chef partner Pete Loeyer told reporters it seemed a natural fit, given the similarities often made between the NY borough where Calexico was founded and the Motor City.
"There's a lot of special mojo going on in Brooklyn and we see a lot of that same mojo in this city," Loeyer said. "It's really a special place and it's really sort of amazing what's going on here."