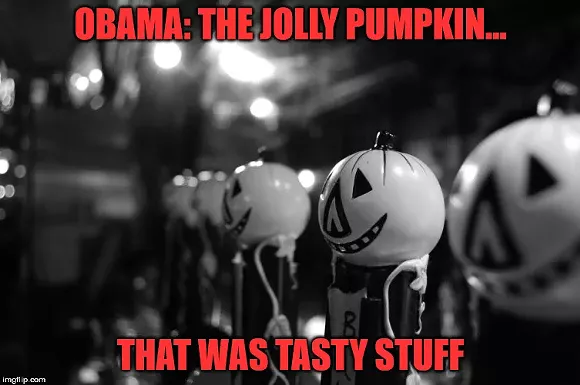 OK, OK, we get it. Sometimes we food bloggers tend to go overboard with breaking food news coverage. Oh look, someone covered those storefront windows with paper! Is a new restaurant opening soon? Oooh, is that a health inspection going on over there? Must mean we're in for another craft cocktail saloon, hold the presses! (Wait, are there even presses to be held for bloggers?).
Alas, it's in our blood to freak out over every freaking single restaurant development in town. So, unshockingly, our pulses grew rapid when we read our Facebook feed earlier, announcing a foodie gossip item of presidential proportions. Here it is, as reported by The Detroit News and other local pubs, President Barack Obama today was spotted dining at Jolly Pumpkin in Midtown (err, Cass Corridor, or wherever).
The News' Ford reporter, Michael Martinez, who covered Obama's Motown visit as part of his auto show coverage
(for our take on everywhere you need to eat at NAIAS, click HERE),
only mentioned the official brewery visit in a graf about midway through the story, in pointing out all the politicos and Detroit dignitaries in attendance. The headline though, would have any food writer jealous about the scoop:
President lunches at Jolly Pumpkin while visiting Detroit.
Damn it, what is wrong with us? How could we miss this vitally important nugget of restaurant news? Oh wait, where were we at that time? Oh yeah, sitting on a Greyhound bus coming back from covering the State of the State address, where Gov. Rick Snyder
(almost tearfully)
apologized to Flint residents for his administration's hand in contaminating the whole city's water supply with lead.
It was a story that's angered folks all over the globe, with
past-their-prime divas calling for Snyder's execution
, presidential hopefuls urging him to resign, and that has resulted in criminal investigations on both the state and federal level
(our own Curt Guyette has been among the few Michigan journalists to have taken the lead in the crisis in Flint).
So we missed the Jolly Pumpkin story. But while The News scooped us on to that end, Martinez's piece failed to mention another, perhaps more important Michigan story that Obama addressed this week: that's right, the water crisis.
CNN says
Obama met with Flint Mayor Karen Weaver at the White House on Tuesday. Here's what the cable news network has to say about their encounter: "Obama 'heard firsthand how the residents of Flint are dealing with the ongoing public health crisis, and the challenges that still exist for the city, its residents, and the business community.'"
Now we know how hectic it can be to follow the movement of a motorcade. Lord knows how many "breaking news" stories we've written ourselves about the comings and goings of a president. It doesn't take long before one feels like paparazzi, Tweeting about otherwise mundane details like, what kind of beer did Obama order? Did he like the pizza? It's almost impossible to resist getting sucked into the hype.
But how about, instead of simply regurgitating the congratulatory comments the president has to say about the automotive industry's comeback, or that he stopped by to pat the Shinola founder on the back, how about call into question as to why Obama didn't take it a step further in his Michigan visit? Maybe be critical and point out that he didn't make Flint a part of Air Force One's itinerary, instead of having Flint's mayor over at his fancy D.C. digs, where the water is presumably clearer.
Idk, it's just something we think about every now and then when we're fretting in our food blogosphere.
UPDATE:
Obama has just proclaimed via live news coverage, "The Jolly Pumpkin, that was tasty stuff," before showing off his Shinola watch.
#mindblown