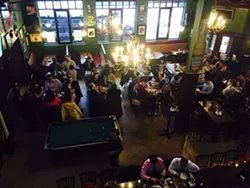 If you've been paying attention to the backlash this week that ensued after the co-owner of Bookies Bar & Grille made inflammatory comments about the shooting of an unarmed black man by Oklahoma police, you might have seen this coming.
Amid hundreds (if not thousands) of
threats of boycotts
of the downtown sports bar, business ties have been cut between said co-owner, Mark Jerant, and business partner Jay Lambrecht.
David Randolph, the crisis management PR pro hired to handle the backlash, issued the following statement early Thursday:
"Jay's now former business partner Mark Jerant's Facebook post was very inflammatory, insensitive and angered a lot of people - African Americans here in Detroit. His comments, not shared by Jay or the staff at Bookies Bar and Grille, were devastating. The decision was made to sever ties and move forward in order to repair the damage, restore trust, and earn Detroit's business again."
Lambrecht says he will address the media at 10:30 a.m. today (Sept. 22) at Bookies.
The announcement comes after Jerant engaged on a friend's Facebook post of dash-cam footage of the Tulsa, Okla. incident wherein Terence Crutcher was gunned down by police following reports of his stalled vehicle.
Of the recent instance of alleged police brutality, Terant remarked, among other things: "Listen to police who have guns pointed at you and don't get shot. It isn't hard."
He went on to issue a written
apology
, sent out by Randolph, saying: "I apologize for the insensitive manner in which my comments appeared on Facebook. My statements are my own and do not reflect my business, partnerships and staff at Bookies Bar & Grille."
Following his initial polarizing remarks and his apology, Bookies has been trying to distance itself from Jerant. The bar's Facebook page (which was at first taken down) reemerged Wednesday, first by pointing out that Jerant was merely a "minority partner" and then with a letter signed by Lambrecht.
Read below:
Today, Bookies Bar and Grille severed ties with Mark Jerant, a minority partner in the business. I will be the sole owner of the bar moving forward.

Bookies has always prided itself on being a welcoming place to everyone. This is what I envisioned when I first opened Bookies in 2003 – a place where anyone and everyone would feel welcome.

Mark's comments in no way reflect that of my own views or our staff. Two days ago, I stated actions speak louder than words on camera...this is my first action. My next action is to regain trust in the community both personally and as a business.

I have worked in Detroit for 20 years and operated a business here for 14. I love this city, its culture, and community.

We value the support our customers have shown our team and hard-working employees during this difficult period and appreciate your ongoing loyalty. We commit to you that we will continue to work to provide a great customer experience to all of our guests.

Sincerely,

Jay Lambrecht
Owner
Bookies Bar & Grille"