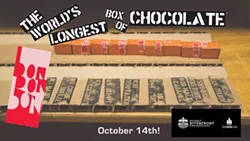 Because there's really no such thing as too much chocolate, chocolatier Alexandra Clark is continuing her quest for bon domination by erecting what she hopes to be the world's longest box of chocolate alongside the Detroit Riverfront.
If you've had the luxury of sampling the sumptuous bons, you know they come packaged in customizable cardboard vessels that can hold as many individually-boxed chocolates as you desire. Clark and her team of makers plan to take that to the extreme, from 5-7:30 p.m., Oct. 14 at 1340 Atwater St. when they work to build a bon box longer than the entire Ren Cen. Tickets for this no doubt sweet event will be sold for $20, part of which will be used to support the Detroit RiverFront Conservancy. Ticket holders will get Detroit-themed Bon Bon Bon's nibble on, as well as happy hour snacks and one beer or wine (cash bar will also be on hand).
This longest chocolate box challenge has being a long time coming for Clark. Shortly after opening her mini chocolate factory in Hamtramck, she told us about her plans for pursuing the record. Since then, she's had her hands full, by opening up a retail space in the Dime Building downtown and a popup location over the summer in Ann Arbor.