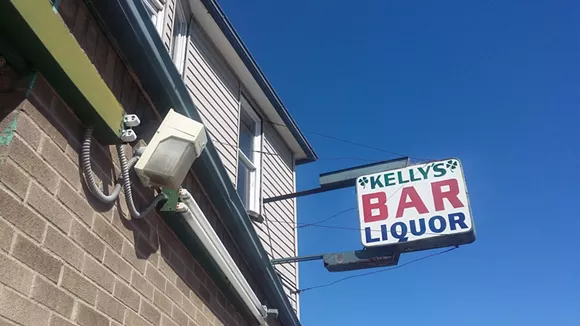 In talking about the food scene in Hamtramck we usually note the many Yemeni, Polish, and Bangladeshi eateries, the cheap but gratifying greasy spoons, or the duo of pop-up venues that bring in talented chefs.
Within most of these places are some form breakfast or brunch, but the majority of the a.m. offerings leave plenty to be desired (you want eggs and gyro? How about eggs and toast? Or... wait for it... how about eggs and hash browns - well done).
An unlikely spot is trying to liven up the Hamtramck breakfast food game, Kelly's Bar. Usually known for its variety of taco nights ($2 for Timmy Taco Wednesday or 75-cent Hard Taco Thursdays), the dive has brought on the talents of chef Blair Wills to provide bar flies with a little something special on weekends.
Beginning sometime toward the end of October, Wills is to introduce Boboville Brunch at Kelly's. On the menu, standard fare like eggs with Yukon golden potatoes, toast, and choice of meat and a short stack of pancakes. Also though, will be entrees you might otherwise pine for at more established breakfast joints, like the Huevos Rancheros and a market quiche.
Prices seem a bit steeper than, say, Hamtramck Coney Island ($8-$12 - though we're told the menu has not been finalized). Wills suggests that has something to do with the seasonal ingredients, sourced from Eastern Market and local urban farms, premium coffee, and possibly live entertainment on hand (DJ, jazz, art shows, etc).
Co-owner Patti Banas will be in charge of the "beverage program," which on top of your typical beer and a shot, will include bottomless mimosas.
Wills, who when he's not cooking is a member of bands Mexican Knives and Duane the Brand New Dog, tells us he's worked in many Detroit restaurants, including opening at Pop's for Italian, Craft Work, and Teardrop Lounge in Portland, Ore. He also hosted a similar brunch concept five years ago at Nancy Whiskey.
The bar's ownership will take the time between now and the launch to spruce up the kitchen and reorganize the bar. Once it commences, brunch will be offered from 11 a.m. to 4 or 5 p.m. Saturday and Sunday.
Kelly's is at 2403 Holbrook.