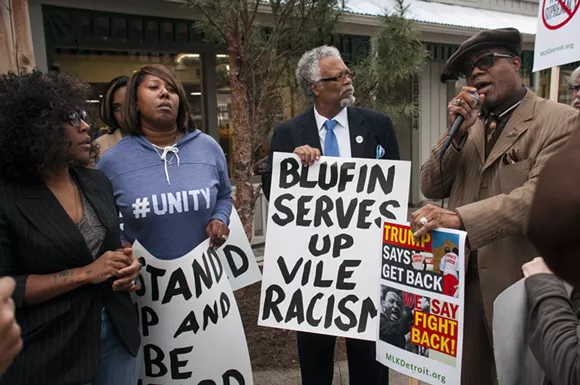 As promised
, protesters showed up outside Gross Pointe Farms' Blufin Sushi to show their disapproval for and anger over the treatment of three black women during their Saturday night visit to the restaurant.
BLAC first reported
that the women were still drinking when they were asked to leave the busy restaurant to make room for other customers, and the women charge that the request was racially motivated.
One of the customers, TaNisha Prater, broadcast part of the incident via Facebook Live, and the situation sparked outrage on social media in the days since.
That continued at Wednesday's protest, and Kim Hudson, one of those that Blufin asked to move on Saturday, said their motivation is to make people aware that racism still exists.
"We want to bring awareness to the fact that there's racial discrimination in America in 2017," Hudson tells
MT.
"We were the only African Americans in the place and they asked only us to move."
David Samuel, a Detroit resident who lives nearby, joined about 50 other protestors for the same reason.
"This supremacism is getting tiresome. Enough is enough ... people died for civil rights and it's coming back again," he says.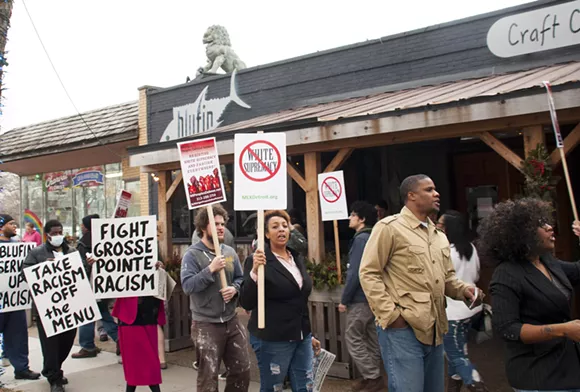 The incident is nothing new in Grosse Pointe, says Kris Hamel, a protestor who lives nearby in Detroit. She says she was appalled with the way the police handled the situation.
"I see this kind of racism on Mack (Avenue) all the time. I heard on the Facebook feed how these ladies were treated, how the cops treated the young women like suspects. That's typical," Hamel says.
Blufin's line was busy on Wednesday afternoon, but owner Joel Radu
told Fox 2 News
on Monday the incident is under internal investigation.
"Is that really what happened here? We really don't know. It's under investigation," he said. "This was a young woman, was her approach wrong? I don't know all the details, but it is under investigation. We will do everything we can to make sure that this doesn't happen again."
Radu's attorney
tells WDIV
security video footage from the restaurant shows the incident was more of a misunderstanding than a malicious act.
However, the women who were asked to move say Blufin never directly apologized to them, and instead has since tried to distort and soften what happened. Adrienne Savage tells
MT
that the restaurant has accused them of being drunk, argued that there were other African Americans in the restaurant, and generally tried to shift the narrative to plant doubt in people's minds.
But she said that's nothing but games, and it's clear that the ladies were discriminated against.
"They are muddying the message, but what happened is we were discriminated against," she says. "I have a family, I have a job, I'm tired — I didn't know how far this would go, but I'm glad that I did it. This isn't the first time this kind of thing has happened.
"We're not saying all of Grosse Pointe is racist, obviously. We love our community and neighbors ... but this is not the first time we've felt this way."
And several former employees who spoke with
MT
say the incident is part of a larger pattern. Daniel Carlisle, a former general manager, charged that Radu regularly used racial slurs and encouraged employees to sit white people before black people because "black people don't tip or spend enough money." He also alleged that Radu behaved inappropriately toward women.
"We know how deeply rooted racism is around here, but we don't need to add to it. (Blufin) needs to be shut down," he says.