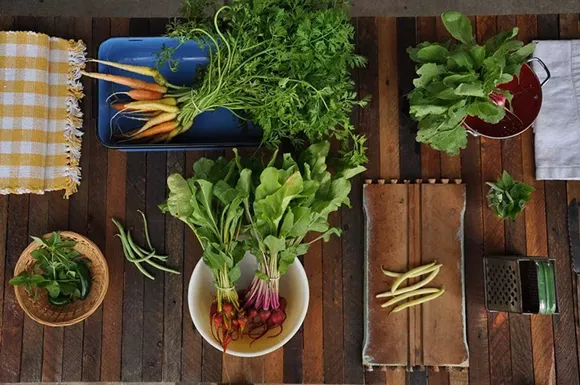 The idea of re-purposing the city's vast acres of vacant land into commercial agriculture space has been in the works for years. Today that effort got a major push when Mayor Mike Duggan announced a $15 million project with RecoveryPark to transform 22 blighted blocks in the city's east side into an agricultural hub, offering the city's burgeoning restaurant scene with locally-sourced produce and ex-offenders and other chronically unemployed with job opportunities.
The agreement, expected to go to City Council for a vote in the next two weeks, will encompass 60 acres, including more than 406 parcels of city-owned property in an area bordered by I-94, Chene, St. Aubin, and Forest. In the next five years, RecoveryPark CEO Gary Wozniak says the farm will house massive greenhouses and hoop houses to grow some 70 different variety of produce year-round, to be distributed not just to local farm-to-table dining establishments but to more than 400 restaurants and retailers across the Midwest (as far as can be delivered within a day).
"We're growing things that are in high in demand that people will buy," Wozniak tells us.
Wozniak says RecoveryPark's model of growing crops will be chef-centered, meaning if a chef wanted a month's supply of squash blossoms for a special menu item, the farm's workers would plant squash for that chef and sell it to the restaurant at a premium.
RecoveryPark, which currently employs eight workers, grows 40 different kinds of produce for 15 restaurants in metro Detroit, including Chartreuse (which prominently features a sampling of veggies from the farm), Selden Standard, and Gold Cash Gold.
Speaking outside of the site's soon-to-be operations and distribution center at the former Chene-Ferry Market shed, Duggan said the RecoveryPark project aims to transform the lives of Detroiters experiencing chronic unemployment, including recovering addicts, ex-offenders, and veterans. Within the next 36 months, the project is expected to employ 128 people, 60 percent of whom must be Detroit residents. Through the agreement RecoveryPark will also lease the city-owned property for $105 an acre and be required to demolish all remaining vacant buildings.
The ambitious project builds on the city's century's-long tradition of urban agriculture. Former
Metro Times
contributor and author
Tracie McMillan wrote back in 2012
that in the 1890s Mayor Hazen S. Pingree encouraged poor Detroiters to grow food on 430 acres of vacant land. More recent efforts to commercialize vacant land in Detroit, include a 2009 plan by local financier John Hantz, who announced plans to establish a 50-acre pilot project to establish large-scale commercial farming in the city, according to McMillan.
RecoveryPark's efforts also have the potential to add to a tiny community on a nearby block on
Farnsworth that for years has been quietly transforming blocks of land
into urban gardens and is maintaining a sort of communal existence that harks back to Detroit's past. We will be watching closely to see how this project progresses. If it's successful, it could serve as a smaller scale model of indoor, urban agriculture that's been practiced in Europe and other parts of North America for decades.