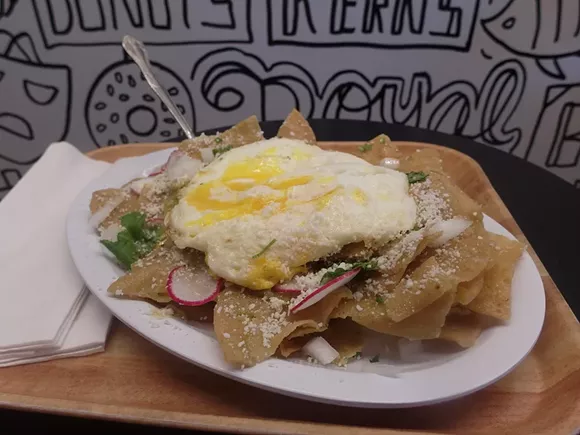 Typically, when a metro Detroiter is craving real-deal Mexican
comida
, they head over to a few familiar haunts: southwest Detroit, Down River, and Pontiac all are known for their many
taquerias
, family-friendly restaurants, and addicting food trucks.
Well, we're starting to see that restaurateurs are recognizing that venturing out of those familiar barrios makes for smart business. Case in point, the somewhat recent opening of O.W.L. in Royal Oak, the classic lunch counter spot that formerly housed the Onion Roll Deli. Run by brothers Larry and Joe Bongiovanni (who also operate Market North End in Birmingham), they tasked longtime cook Pedro Nuñez, a native of Jalisco, with creating the menu.
The offerings are a mashup of Mexican and American fare. Daily taco specials, burgers, dry-rubbed wings, nachos, and the oh-so-trendy avocado toast are all par for the course.
And for a tasty breakfast-anytime entrée, there's our favorite, the
chilaquiles
($9). Typical of the improvisational spirit in casual Mexican cuisine, chilaquiles usually utilize leftover tortillas cut up into triangles that are fried up and then softened in green or red salsa, and topped maybe with a fried egg, some sort of protein, queso fresco, and perhaps a few slices of avocado or crema.
A good plate of chilaquiles are helpful for soaking up booze after a night of drinking or as a filling and cheap, yet no less tasty meal. Here, the tortilla pieces are slightly crispy, give you the chance to savor the dish at either the sleek, metallic lunch counters that face the open kitchen or Woodward, or the few high top, standing-only tables, situated beside a wall covered by a black and white mural of Detroit landmarks created by NYC artist Timothy Goodman.
We ordered ours with salsa verde and a fried egg, whose yolk mixed in nicely with the tortillas and not-too-spicy sauce. Garnished with slivers of radish, cilantro, onion, and queso fresco, the entrée had a balance of crunch, creamy, and a subtle picante. You can add chili on top of it, but we say, trust us that you'll have your fill without it.
O.W.L. (we still can't say what the acronym stands for) is open 24/7 (except from 11 p.m. on Sunday to 8 a.m. on Monday) — a detail we can't help but appreciate, especially after a long night in Royal Oak, where Leo's Coney has long reigned as the go-to late-night joint.
O.W.L. is at 27302 Woodward Ave. in Royal Oak.