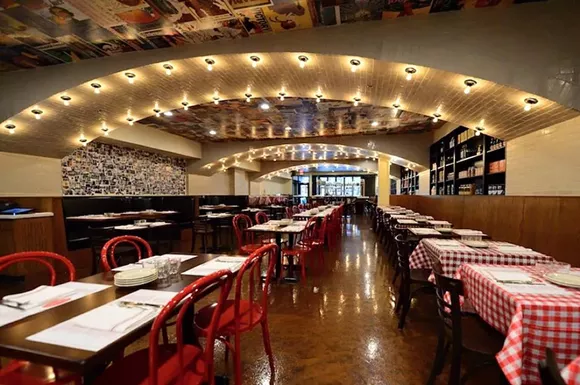 Arthur Ave, an Italian restaurant that opened last year alongside Au Cochon in Birmingham, never seemed to have gotten its footing.
Within months of its opening, we were told that the eatery was temporarily closed for reconfiguring. That revamp didn't seem to help. According to
Downtown Publications
, the Pea & Carrots-run Arthur Ave is no more.
Owner Zack Sklar told the suburban publication that he has "no idea" what will become of the space, which shared a kitchen with French-inspired brasserie Au Cochon.
See also:
Au Cochon brings approachable and tantalizing French flavors to Birmingham
The spot, an homage to old school Italian restaurants found on Arthur Ave in the Bronx, opened in November 2015.
Months later, Sklar announced plans that he and business partners from restaurant group Schmaltz Hospitality had acquired franchising rights to open several Gus's World Famous Fried Chicken locations throughout the Midwest.
A Gus's opened in August in Midtown, much to the delight of die-hard hot chicken fans.

See also:
First taste: Gus's World Famous Fried Chicken delivers on taste, value

See also:
Are you ready for the 'best fried chicken in the world'?