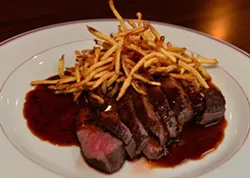 The long-anticipated Au Cochon French bistro is slated to open for dinner service Friday, adding to restaurateur Zack Sklar's growing chain of eateries in Metro Detroit and Chicago. The spot, under Sklar's Bloomfield Hills-based Peas & Carrots Hospitality, is at 260 N. Old Woodward Ave. This latest concept is the fifth for the company.
In the next several weeks, Skler will also open an Italian restaurant, Arthur Avenue, named in homage to a street in the Bronx in New York famous for its many Italian dining establishments. The two concepts will share a 2,500-square-foot open kitchen - a design similar to other Peas & Carrots venues. Other Peas & Carrots restaurants include: Social Kitchen & Bar in Birmingham, MEX and Beau's Grillery in Bloomfield Hills and Bernie's Lunch & Supper in Chicago.
Heading the kitchen will be executive Chef Mark Barbarich. He and Sklar designed the menu together to make upscale French cuisine more approachable. Among the menu items will include the Fromage blanc, a fresh cheese served with truffle honey, lemon and toast points; the Shaved salad, with seasonal vegetables, chevre cream and lemon ginger vinaigrette; and steak frites. But also for those wishing for American fare, there will be a 24 ounce rib eye, a burger and a wedge salad.
The opening follows drama earlier this year when
Birmingham city officials struck down Sklar's request for an outdoor dining platform to accommodate additional diners.
At the time he expressed concern that without the extra seating, his concepts for both restaurants would not be profitable enough to afford the development. Seems that concern has been dealt with as both projects are well on their way. We'll be sure to check these places out and keep you posted on how they turn out.