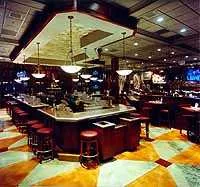 Are we having fun yet?
xxx
Monday night is "Battle of the Sexes," Tuesday is "Lucky 7 Basketball," Wednesday is "Name That Tune," and Thursday is karaoke night.
"Like Chuck E. Cheese for jocks," my co-diner commented.
I asked two young women, "How's the food?"
"Terrific," they said in unison. My expression prompted one to add: "for a sports bar."
Champps Americana leaves no stone unturned. Walk in and you are greeted by a store-within-a-store stocked with Champps T-shirts, sweatshirts, coffee mugs and key rings. You can even enter to win a Caribbean cruise.
Giant TV screens are tuned to various games, all mercifully soundless. Coasters are printed with pithy "Thoughts on the Game of Life." My Goose Island draft rested upon, "There is a difference between a bumper sticker and a philosophy." Indeed.
The dining room is arranged on risers, culminating in a glass-walled kitchen. The waitstaff is young, friendly, happy, dressed in khaki shorts, always running up and down those risers. Our first waitress had a silver stud in her tongue.
Champps is a chain with locations from California to New Jersey. For a sports bar, Champps offers an extensive menu that goes way beyond burgers and waffle fries.
We selected high on the food chain; unfortunately, the results were uneven.
"Don't forget to say the portions were generous," coached my companion.
Crab bread is an ill-conceived appetizer, combining crab salad (mayo and all) on a loaf of French bread, covered with melted yellow and white cheeses. The crab is so overwhelmed that you had to see it to believe it, and what is it doing on a toasted cheese sandwich anyway?
Dinner comes with soup or salad. The French onion was good with a thick crust of broiled provolone.
The house salad and the Caesar salad were suspiciously alike, although the Caesar came without carrots, tomato and red cabbage. Both salads were boring.
Among the entrées we tried, the Tuscany fettuccine was my favorite, with portabellas marinated in balsamic vinegar in a creamy Marsala sauce. But one had to search hard for the applewood smoked bacon.
My co-diner pronounced the Cajun shrimp penne "too hot," which is the first time he has ever said that, causing me some concern. The penne was smothered with an unrelenting spicy red sauce.
Herb-crusted tuna could more accurately have been called grilled tuna with herbs added afterward. The fish was regrettably overcooked, but the Parmesan rice that came with it was terrific, like a rich soup.
Steak fajitas were grilled and sliced thin, but again, were overcooked. The steak, along with sweet grilled onions and green peppers, sizzled on a steel platter for five minutes after coming to the table. The tortillas were not worth eating, a shame when authentic ones are produced on Detroit's southwest side.
Come dessert time, we eschewed the Messy sundae (served in a wine glass coated with hot fudge and chopped nuts – is this a challenge to self-control or are you supposed to lick your plate?) and ordered key lime pie, which was reasonably good.
Here's a deep thought suitable for resting a beer on: "There is a difference between a sports bar and a restaurant." Champps falls in between. Good thing the portions are generous.