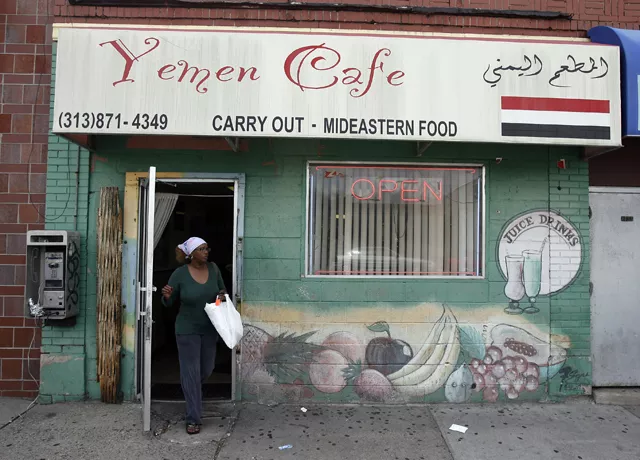 Yemen Café
8731 Joseph Campau, Hamtramck
313-871-4349
Restroom inaccessible
Entrées: $5-$10
Michael Jackman, my editor at Metro Times, recently told me that he eats at the Yemen Café about three times a month. Why didn't he clue me in?
The dishes are different from the usual Middle Eastern fare, you can catch up on your Al-Jazeera on the overhead TV, the price is right — what's not to like?
Very little, I've found. Yemen Café is the anti-La Shish (which is not a put-down of La Shish). It's no-frills — no raw juices, no dessert — and oriented toward Arab men from the neighborhood. On the wall and on the menu are photos of the green terraced landscapes of home and a picture of a camel, that's it.
Workers in paper caps, who double in the kitchen and as servers, have rudimentary English. One time we chatted with the owner of a Coney Island in the burbs who comes in regularly for his fix of home cooking. You're more likely to see a guy in an immaculate white shalwar kameez and white skullcap than a Middle Eastern woman. Every time I've been there, though, non-Arabs are too. 
There's not a lot of overlap between owner Nesser Alriyashi's menu and those in the ubiquitous Lebanese restaurants (nor even with that of the Yemeni place across the street). Yet, asked the distinctive thing about Yemeni cuisine, Alriyashi, who is also chief cook, says it's that dishes are always prepared when they're to be eaten, never refrigerated and reheated. "That never happens," he said. (At his house. I was perfectly happy with my own take-home the next day.)
Outsiders might also point to the utensil of choice, a piece of flatbread that is not pita. This comes, for $1, as platter-sized, round, puffed and browned, called malooga at home, less floury than most fresh-baked pita, and tastier. You break off a piece and use it to scoop up your lamb, vegetables and rice.
Also costing a dollar, and not to be missed as a starter, is maraq, a dark brown lamb broth with a few onions floating. It's made with a Yemeni spice mix, and I'm guessing that it includes cloves. It's infinitely heart- and soul-warming.
My favorite entrée was agaddah, in which smallish pieces of somewhat fatty lamb are cooked with tomatoes, zucchini and onions. It sounds simple, and it is, but it's spiced with that same excellent mix. Servings are large.
Two dishes are called soups but are really very thick stews. They're brought to the table boiling, in heavy cast iron pots that keep them hot for a very long time. Salattah is made with ground lamb and bits of egg, carrots and onions. The taste is great but I wasn't wild about the texture. Fahsaah is the meatiest dish, rich and smoky, cooked with tomatoes, onions and scallions.
If you want lamb on the bone, you'll order "lamb with vegetables," which is a backbone with squash, tomatoes and onions. The meat is fatty and a small challenge to extract from between the vertebrae. It comes with a big heap of white rice mixed with browned vermicelli. Alriyashi says it's his biggest seller.
Hummus was the one dish I found disappointing — and learned from Alriyashi that hummus isn't traditional in Yemen, though it's begun to appear recently. He serves it, with a pool of olive oil, tomatoes, onions and scallions on top, because some of his customers ask for it (presumably not the Yemeni ones). It's quite bland.
Breakfasts, served any time, are blander than the dinner dishes, too, as is true in most cuisines. You can get foul or fassolia, which here are identical except for the color of the beans: brown favas in the foul, white beans in the fassolia. Each is a $6 plateful, a solid mass of beans mashed together with tomato paste, garlic, onions and tomatoes and, optionally, eggs. You can spice it up with the fiery tomato "salsa" that comes with everything.
Alriyashi has been running the café — you can see him working hard in the open kitchen — for over 10 years. The hearty meat dishes he serves don't seem the best suited for the hot days and nights we're enduring now. But when out-of-towners ask to be taken out for Middle Eastern food, as they usually do, I'll ask them if they want the regular (which — again — is great), or something more intriguing, out of the ordinary.
The Yemen Café is open from 8 a.m. till midnight every day.