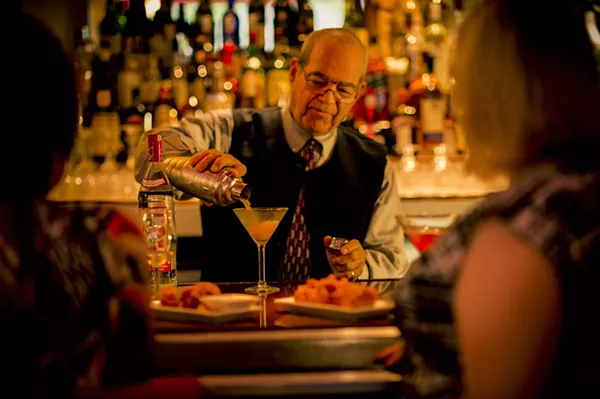 Farouk Elhaje spent 58 years serving drinks in Detroit. He crafted cocktails at the Rattlesnake Club, London Chop House, and Caucus Club, and was known for sharing stories of his famous clientele whilst mixing up the best mint julep outside of the Bluegrass State.
During his career he served drinks to Barbara Streisand, Walter Cronkite, Lee Iacocca, former U.S. President George W. Bush, and Detroit Mayor Coleman Young, and he loved sharing stories with his less-famous clientele.
He was beloved not only as a superior mixologist, but as a recognizable figure in Detroit.
Elhaje died at the age of 80 on March 2, 2018.
His life will be celebrated at the Rattlesnake Club on Thursday, March 22 during a celebration called "Last Call for Farouk," which will take place from 5 p.m. to 8 p.m.
Elhaje is remembered fondly among other Detroit figureheads, including John Stroh III, the current CEO of The Stroh Companies.
"Farouk was a great friend and a great character. He was an iconic figure in the Detroit restaurant scene over the past 50 years and I, along with many others, will miss him terribly," Stroh says in a press release.
Rattlesnake Club general manager Robert Sereno is also mourning the loss.
"Farouk has been the patriarch of The Rattlesnake Club family since its inception," Sereno said. "His regulars always greeted him with a jubilant 'Hey, Farouk!' and he would affectionately reply, 'The bar's closed!' Farouk loved his career, never wanted to retire, and worked until the day before he died. He will be deeply missed."
Last Call for Farouk is a free event, but reservations are strongly suggested.
The Rattlesnake Club is located at 300 River Place Dr., Detroit. Call 313-567-4400 or email
[email protected]
to RSVP.