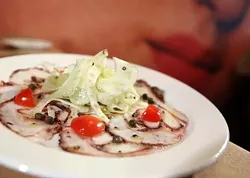 Bella Piatti
167 Townsend St., Birmingham
248-494-7110
Handicap accessible
Entrées: $19-$38
Pasta: $16-$24
Other reviewers have gone ga-ga over the decor and atmosphere, but I'd have to say it's the food that stands out at Bella Piatti. Tables are close together and noise levels are high, though not so high you have to raise your voice — convivially high, then, not a problem.
On both a recent Tuesday and a Saturday, the place was crowded with happy diners. They've embraced the recent reincarnation of Bella Piatti, which opened Feb. 13 with new owners, Liz and Nino Cutraro and Robert Van Hellemont, a new style, and a completely new menu. (The old place was praised by our reviewer Evan Hansen, but not by sufficient diners; he warned that the tab for two could easily reach $250.)
Service is highly knowledgeable, if a bit aggressive with suggestions to order more. Our server recited details of the specials' preparation and plating impeccably and easily answered any question thrown his way, from wine descriptions to provenance of fowl. Our party was kept amused the rest of the evening when he warned that wine from a just-opened bottle was "a bit tight out of the gate, but it'll loosen up." It was Derby Day, so maybe Orb had won our server some cash.
Though I liked everything that my companions and I ordered, the smaller offerings stood out more than the main courses. I splurged on a halibut special and found the main event just good, not the fish perfection that halibut usually is. The accompanying fennel cooked with anisette made up for it, though, a myriad of flavors that included sweet as well as licorice.
Quail with a mushroom risotto followed the same pattern: The tiny birds were peppery and savory but the rich, winy rice was the star. Chicken cacciatore, on the other hand (half an organic bird from the Thumb), was fabulous throughout. Venetian chef Francesco Apollonia had taken this simple dish to new heights, the soft polenta underneath soaking up a quantity of winy, somehow intricate sauce.
I highly recommend two pastas, linguine with shrimp in a pine nut-pesto cream, and orecchiette (little ears) with rapini and garlic. My vegetarian friend had ordered the latter without its usual pancetta, which would have been a mellow complement to the spiky, peppery rapini, but we loved it without too. Orecchiette are perfect shapes for catching and holding whatever sauce they've been blessed with.
Gnocchi were feather-light, the lightest I've had, but I've never quite seen the point of gnocchi, except for the fun of pronouncing them.
Two salads were stars: a special of shrimp, yellow beets, tomatoes and green olives over greens, and the regular-menu insalata di arance, a beautiful mix of oranges, arugula, goat cheese and a bit of red onion. The first may sound like it has too much going on, but I vouch for the virtue of its complexity. The second, if you love arugula, needs no further explanation, but here it is: The sweet-but-citrus-tart of the oranges balances the spiciness of the greens, which is rounded off by the almost-blandness of the dairy — and then the onions add a tiny kick.
You can see that we ordered from the less-heavy dishes, but rest assured that filet mignon, osso buco, scaloppine saltimbocca and a 2-pound Porterhouse are also possible. Scallops come in two different versions, as appetizer (with brandy and Parmesan) and entrée (with spinach and speck).
Working backward: a pea soup from chicken broth and what I thought was a hint of mint worked well. An antipasto platter was fine but not remarkable, its biggest treat the silky black olives and spicy green Mediterranean ones, the latter soaked to leach out salt and then marinated.
Bread is brought with three good spreads: sun-dried-tomato butter, black olive tapenade and roasted garlic in olive oil.
Desserts we tried were creative: a light tiramisu that's not cakey at all, the ladyfingers soaked in brandy; a bread pudding that's drier than most, with a crisp edge, pears and crème anglaise; and deconstructed cannoli, with all the ingredients layered in a glass. Bits of crumbled cannoli shell act as a garnish over ricotta, chocolate cake, raspberry sauce and Marsala.
The glass of Orvieto (Italian white) I ordered was, according to the knowledgeable server, a blend of Trebbiano, Sauvignon Blanc and Chardonnay. When I looked it up later, the latter two weren't permitted grapes in an Orvieto blend, but who knows — the glass was only $10, so it was decidedly one of the cheaper offerings in a long list that concentrates on bottles. My companion requested a gin and tonic made with Hendrick's (a Scottish gin infused with rose and cucumber), and it was infinitely smooth and lovely.
One evening I caught myself staring at the graceful liqueur glasses on a nearby table, and the imbiber came over and introduced himself as Nino Cutraro. A former owner of Intermezzo downtown, he and Liz are gracious and hands-on, and they have a winner on their hands.
Jane Slaughter dines for Metro Times. Send comments to [email protected]