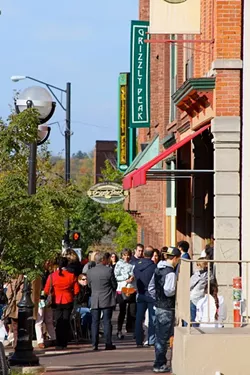 Come Friday and Saturday, a section of Washington Street in Ann Arbor will be closed off to make way for Grizzly Peak Brewing Co.'s 20th anniversary block party.
This sounds like a foodie paradise, with several dining stations, depending on your cravings that day, that includes Oktoberfest-themed cuisine, a pasta and slider booth and a burger station, where the brewery will unveil several new menu items like a pork belly burger with ale-braised pork belly, jalapeno goat cheese and candied tomato jam and a 2 a.m. burger, with cheese fondue, fried pickles and bacon.
Beer snobs will be equally impressed with the debut of an anniversary edition, Grizzly Peak XX Pale Ale, featuring a higher concentration of hops and malt compared to Grizzly's usual pale in a 7-barrel batch. This special brew was a collaboration with several Grizzly Peak alumni, including, Jolly Pumpkin founder Ron Jeffries, Griffen Claw Brewing Co. brewer Stacy Roth, Sean Brennan from Original Gravity Brewing Co. and Nathan Hukill, founder and brewer at Bitter Old Fecker Rustic Ales.
The eats and refreshments will be accompanied by live music and DJ Brian Alvarez, a photo booth and games like giant Jenga and cornhole. This award-winning spot has been a staple in A2, with its restrained hunting lodge-feel and variety of on-tap Weissbiers and ales, popular during the summer months. The brewery says the anniversary bash is to coincide with a freshened up look for the spot and revamped menu. That's enough to have us curious about how the updates have changed the place up.