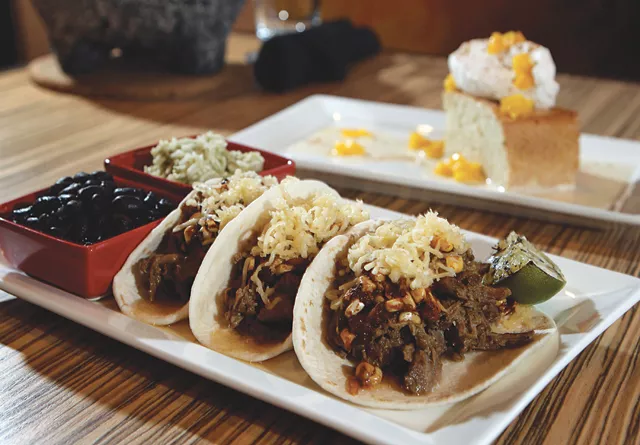 Barrio
203 Hamilton Row,
Birmingham
248-593-6060
Handicap accessible
Tacos: $11-$14 for three
Barrio in Birmingham? I don't have to guide you, readers; you can riff on that oxymoronic oddity of a name yourselves. (They at least could have called it Barrio Heights.)
Barrio is the Dali Group's third try in two-and-a-half years at 203 Hamilton, after a somewhat stuffy and expensive Italian spot, Quattro, followed by a pizza place. I was skeptical about management's decision to switch continents. Was there a reason to pay six times more for a taco than you could pay elsewhere in the metro area?
There is, of course, such a thing as upscale Mexican food, with top-flight ingredients and sophisticated preparation — what do you think Carlos Slim eats? (The richest man in the world is Mexican.) That would be a reason to open Mexican in Birmingham. Rabbit in green mole, chicken pipián (a mole with pumpkin or squash seeds), duck breasts with chipotle-fig sauce, scallop ceviche — Mexican dishes for those with money would have seemed the way to go.
Chef Hammond Lawton has chosen to take a step in that direction but not to go there. Mostly he sticks with dishes whose names are oh-so-familiar: quesadillas, burritos, enchiladas and lots of tacos. The ingredients are upscale and generally the flavors are good to excellent. The emphasis, in truth, is on the tequilas: 12 margaritas, eight tequila cocktails, tasting samplers of three 1-ounce shots ranging from $19 to $48.
I have no use for tequila myself; I'll let readers who have no shudder reflex decide whether reposado (which means "rested" — a minimum of two months!) is noticeably better than silver and whether they can taste the oak in añejo. White and red sangrías are also available; the Cabernet I ordered, the less expensive of two, tasted like the house pour in a cheap bar.
But let me wax enthusiastic about the food. The way to go is the chef's selection of tacos: five for $24, with three sides. They are correctly served on corn tortillas, rather than the blander flour.
These tacos are elaborate: at least three salsas or slaws or cremas or quesos top the meat in each one. We loved our mahi-mahi with crisp cabbage slaw — a contrast of temperatures and textures that is the essence of a good taco. Same for tiger shrimp with chile-jicama slaw, and a beef brisket with mole verde. Carnitas were pulled pork, more hot than porkish. All the tacos were pretty spicy.
Only disappointment: that the chef didn't choose to include his housemade chorizo or chicharrones taco in the mix.
But before the main course, you want to order guacamole, which is pushed by the staff and served in a 10-pound stone molcajete (just the mortar, no pestle). We tried a very generous serving of the calabaza version and found the sweetness of yellow butternut squash and tartness of red pomegranate pips to be perfect additions to the traditional green sensuousness of mashed avocado. Look out for chile hot spots. There's also a version with pineapple and ginger.
Another fabulous starter is ceviche, either shrimp or snapper, big chunks of fish with red onion and lots of lime. Ceviche is really more of a summer dish, but we can pretend.
In between starter-size and main-dish-size is chicken posole. This soup, which you can find on some Mexicantown menus, has a strong, warm corn flavor from exploded buds of hominy. It's served with garnishes you add yourself: avocado, tomato, green pepper, cabbage, radishes and, best of all, a creamy, salty queso fresco I could have eaten all day — who knew bland could be so enticing? My only beef — the soup was served lukewarm.
Other dishes were less successful. Crisp beef flautas with lots of pico de gallo were fine but not memorable ($8 for two small). A "Mariscos Rice Bowl" combined shrimp with a list of eight ingredients, noticeably onions and corn, but tasted of just one flavor: poblano chiles, i.e., hot.
Other platos fuertes (entrées) are enchiladas of chicken, mushrooms or crab, chiles rellenos, a vegetarian burrito, and mojo-marinated sirloin (citrus and cilantro). If you find it hard to get past the idea of spending $15 for enchiladas, arrive Tuesdays between 9 and 11 p.m., when they're only $6, and you'll find $2 tacos and other bargains, including on drinks.
Dessert: Flan was not the best — it tasted of honey rather than the burnt caramel flavor you want. But tres leches cake was the best I've ever had, including from Mexicantown bakeries. The three milks used to make this gem are evaporated milk, condensed milk, and heavy cream — yet, done right, it doesn't come out soggy. Lawton's version is swimming in cream and topped with cinnamon-spiked whipped cream and cubes of raw mango. It's sweet, of course, but richer than sweet.
Barrio doesn't try too hard for a Mexican ambience, which is a good thing. The best part of the decor is three low-rider bikes perched above the high-backed booths.
The restaurant is open 11 a.m.-11 p.m. Monday-Wednesday, 11 a.m.-midnight Thursday, 11 a.m.-2 a.m. Friday, 4 p.m.-2 a.m. Saturday and 4-10 p.m. Sunday.