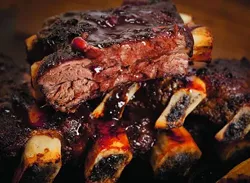 Before we start talking barbecue, let's set the record straight: Although Detroit's barbecues are having quite a decade, the city and its surroundings have had excellent barbecue for generations.
We've been lucky enough to have a stream of immigrants from the South for a century — a stream that became a flood during and after the Second World War. These newcomers brought their culinary prowess with them, creating a constellation of old-fashioned Detroit barbecue joints, places such as Vicki's, Nunn's, Parks Old-Style and Uptown.
Though you can expect a no-nonsense, mostly carry-out environment, and maybe a few slices of Wonder Bread on the side, the meats they slide through the Plexiglas are on par or better than anything else on offer today.
Then came 2005. Slows Bar-B-Q took low-and-slow barbecue — along with that classic, quirky spelling common to Detroit 'cue houses — and added stylish sit-down dining and a killer beer menu, putting it all in a lovingly repurposed old building. The restaurant was an immediate smash, one that has been copied, adapted and innovated by dozens of other entrepreneurs, from Downriver to Clarkston, Ann Arbor to New Baltimore, in places such as Lockhart's, Bad Brad's, Penny Black, Rub, Red Smoke and Union Woodshop, to name a few.
What's behind all this? Part of it would be Michigan's renewed interest in craft beer (which has been well-documented); craft beer sales are rising. In recent years, the sale of Michigan-made brew to Michiganders has more than doubled in an otherwise flat or declining beer market.
According to Scott Graham, executive director of the East Lansing-based Michigan Brewers Guild, "We've got a great brewing culture, great breweries, great beer. … And it's growing: We see more people willing to spend money on craft beer, because it's still an affordable luxury."
While we're talking about "affordable luxuries," it's important to note that metro Detroiters' fresh look at low-and-slow-cooked proteins also represents a reaction against anything that smacks of hoity-toityness. Given today's shifting economic sands, diners seem to be thinking twice about entering a restaurant with white tablecloths and French inflections. We've seen some of our fancy eateries close their doors in recent years — including one of the priciest, Tribute — and several others closed to retool: Five Lakes Grill, Opus One and Larco's Steakhouse among them.
Savvy restaurateurs have deftly removed the things we associate with a big bill, even if we do end up with a similar-sized check in the end. Instead of formal tuxedos, the servers at downtown Detroit's Roast sport jeans and Chuck Taylors. Even the venerable Whitney, on Woodward Avenue, has traded in its chamber quartets for DJs.
Folks in the business are swapping their white doilies and uptown designs for checked tablecloths and down-home accents — even if the ribs, sides and beers add up to what a filet mignon and glass of wine costs.In this battle of perceptions, an unintimidating approach seems to be winning.
But it's not all local cuisine-slingers trying to soothe consumer jitters. Given the number of recent books about barbecue and growing interest in American fare — evidenced by the many television shows that hit the slabs to find authentic roadside food — it's a trend in and of itself.
Then there's the undeniable comfort factor: We've seen a marked rise in demand for casual dining and comfort food. It doesn't get any closer to basics than digging into a plate of fire-cooked meat with one's hands — it's not the sort of thing people do in dinner jackets.
People want pleasure — and plenty of it — increasingly resisting the trappings of stuffiness. For proof, one need only look at Metro Times' own hugely successful event Pig & Whiskey, taking place this weekend. What began a few years back as a one-day event has mushroomed into a massive celebration spanning three days and drawing thousands of revelers.
Underlying it all is that love of comforting barbecue, and appreciation of craft brews and booze — and the joy of cutting loose and having some fun. Sort of leaves a good taste in your mouth, doesn't it?