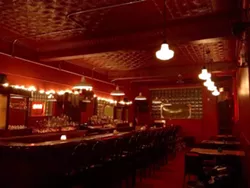 Hamtramck's newest bar darling, Bumbo's, opened this spring as a welcome alternative to the shenanigan-riddled, divey rocker joints that have dominated the drinking scene in the city for generations. What you find at the throw-back, yet stylish saloon is a rotating cocktail menu, with kitschy drinks like the Ranch Water, with tequila, Topo Chico and lime, or the citrus-infused Gin Rummy - both far cries (in a good way) from your standard shot and a beer that's favored at other establishments in the neighborhood.
As we've previously noted, Bumbo's team Brian and Tia Krawczyk want more than to just be the local watering hole. When they bought their space at 3001 Holbrook (the former home to old man bar Hank's), their idea was to build out a full-scale kitchen and serve customers interesting bar food. With husband Brian's unique take on Polish cuisine, the couple's concept won praise last year when they were selected as semi-finalists in the Hatch Detroit business incubator contest.
Now that the duo's spot has made a name for itself in town, and as they continue the drawn-out process of completing their kitchen (some of you may know such a task is a daunting, arduous process, often dependent on the economy and market for contractors) they've started off the fall season by rolling out twice-a-week popup menus. While they've done popups in the past, this time around the Krawczks want to make this more of a regular occurrence, with changing menus each Sunday and Wednesday.

The first in the series launched on Sunday, just in time for the Lions game. While the football was embarrassingly disappointing, the menu delighted. We tried the chicken and kielbasa porridge, a hearty soup with both white and dark poultry meat, decent-sized chunks of sausage, filling grains and then given a Polish twist with a nice sprinkling of dill. We continued on with an order of meatballs, drenched in beet and cherry gravy and sitting atop horseradish mashed potatoes. We rounded out the small plate meal with rounds of house-made Bloody Mary's and Stroh's - none more than $5 apiece.

The Wednesday offerings, which Brian Krawczyk told us are more in line with what the bar will serve on its menu once its kitchen is completed, were also a hit. To start, was a chilled corn chowder with dill, sorrel and lime and a grilled celeriac and a carrot salad with red onion, ancho chile vinaigrette. For protein, we got a taste of a smoked kielbasa, sourced by Srodek's in Hamtramck that featured a kick of spice, sitting atop pureed, Chipotle squash and pickled raisins, coupled with a pierogi, stuffed with sweet potato, black beans, roasted corn and poblano, with cumin and lime crema. The food launch packed the house with locals, who on Wednesdays are typically more inclined to patronize Kelly's down the street for Timmy Lampinen's popular street tacos.

We tend to have an image in our minds that bar food is supposed to be a greasy afterthought whose sole purpose is to soak up the booze, but so far Bumbo's seems to have risen above that, while still maintaining reasonable price points. Beyond the libations and new menus, the Krawczyks are a fun couple, who welcome their regulars like dear old friends. We're excited about this latest chapter in the Bumbo's story and look forward to what's to come.