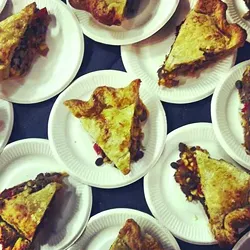 What is it with the explosion of area bakeries over the last several years? There are several things driving it: An increasing interest in food culture, suspicions of "Big Food," dietary restrictions, the eat-local movement and an appreciation for the flavor of something "made with love." For our Made in Michigan issue, we decided to hunt down a few of these Detroit-area bakers and ask them why they do what they do. The answers were enlightening.
Coming Home
SISTER PIE
In these tough times, it's some comfort to hear that somebody opened a business in metro Detroit — by choice.
That person would be Lisa Ludwinski and her business, Sister Pie. Michigan-born Ludwinksi, 29, lived in Brooklyn, N.Y., for six years, working at Momofuku, a chain of Asian-inspired restaurants owned by David Chang. Ludwinski won a scholarship to go back to Michigan and work at Avalon in Detroit and Zingerman's in Ann Arbor.
"What I didn't realize," she says, "is that I would fall in love with Detroit and want to move back. I saw an opportunity to open a business, and also felt that connection to home, and pride for Michigan and hope for Detroit." She spent last summer planning her move, and returned in September.
Timing the launch was important, she says, since demand for pies is highest around the holidays. Under Michigan's cottage food law, home bakers can sell their wares, so long as they have contact with the individual customers. And that's why she started baking out of her parents' Milford kitchen last fall — and she's been going ever since.
"I operate under the cottage food law, so I can cook out of home kitchen without inspection. I've gone from using my parents' kitchen, and now I'm in Ferndale using the kitchen where I'm subletting," she says over a crackling cell phone. "I'm actually about to have a meeting in Detroit to finally rent some commercial kitchen space, which will catapult me out of the cottage-food-law category, which I'm looking forward to."
She continues, "The cottage food law is a great way for any entrepreneur to start a business. I've been trying to start it as leanly as possible, but I've also been looking to open a breakfast and lunch place with pies as part of it."
Given her experiences at Zingerman's and Avalon, she emphasizes the importance of local ingredients and good labor practices.
"At Avalon," she says, "I was staring up at this poster at the Willis Street location that said 'Earth, Community, Employees,' and thought, 'That's what I want to do: move back here and do that.'"
This June, Ludwinski's pie menu included three pies — two sweet, one savory: a blueberry-rhubarb biscuit, strawberry-apricot basil, and a black bean and green chile.
If those sweet pies sound like artisanal jams, it's no coincidence. "I do often think of jams when I make them," Ludwinski says. "They're very much related. In fact, I'm working on developing stuff for July that involves Michigan sour cherries. I'm also working on a sweet pie made with sweet corn."
It sounds maybe too experimental for some people, but Ludwinski is confident that people are up to the challenge of new combinations.
"Pie is having a moment," she says, "But food is having a decade. It's the perfect time to be starting a food business, because people are so excited to try new things." —Michael Jackman
For more information, see sisterpie.com/contact or Sister Pie's Facebook page. You can sample Sister Pie's seasonally-inspired pie, cookies, and breads between noon and 8 p.m. July 5-6 at the June on Jefferson Pop-Up, 14436 E. Jefferson Ave., Detroit.
Pies That Rock
Dangerously Delicious Pies
An idea for a baking business doesn't necessarily have to be made from scratch. Take, for example, Detroit's Dangerously Delicious Pies. Headed up by co-owner Don "Doop" Duprie (yes, the guitarist and singer of Doop & the Inside Outlaws fame), the endeavor is actually a spin-off.
Dupries says, "I met my buddy from Baltimore, Rodney Henry, at South by Southwest. He's another musician who's got some pie shops out in Baltimore and D.C. We pretty much became quick friends, and he wanted to come hang out in Detroit. So he hung out for a month and he's like. 'Man, we should start a pie shop here!' At the time, I had lost my job as a fireman due to layoffs and shit. So he's like, 'You wanna do it?' And I'm like, 'Hell yeah!'"
Duprie started slinging his pies out of the kitchen at Comet Bar on Henry Street in Detroit's Cass Corridor, but about four months ago he started working out of the Third Street Bar in Midtown, where he sells pie by the slice.
"We have a little table set up," Duprie says, "and people come up and we take care of them." Dangerously Delicious serves about 30 varieties of pies. On any given day, diners can choose from about six or seven savory pies and about six or seven sweet pies, and $6 gets them a slice, along with a field greens salad with homemade vinaigrette dressing.
Although Duprie uses some of Henry's recipes, he says he's come up with some new twists, such as "coney pie." We wanted to do something regional and, like, what's more Detroit than a coney dog? It's called "the Strangler, and it has our own chili made from scratch, with mustard, onions, aged white cheddar, Dearborn skinless beef franks, some other little secret ingredients. It's basically everything you get in a coney." —Michael Jackman
Dangerously Delicious Pies Detroit operates out of Third Street Bar, 4626 Third St., Detroit; 313-727-7437; dangerouspiesdetroit.com.
Made with Love
Love's Custard Pie
Sometimes, you have one product that takes off, and then you put all your energy into it. Allen Love says that's how his wife founded Love's Custard Pie.
"We had a custard ice cream shop, a Dairy Queen, and it wasn't going as well. But we always did pies — we know how to do custard very well — and people wanted us to make more and more of them. So we went down to Eastern Market with them and there we are today."
Love says the pies are made with "good old Southern-style custard," and they come in 26 different flavors, including such staples as apple, strawberry, peach and blueberry. But some of the custard flavors are even more interesting, including ginger, German chocolate, crème brûlée, lemon-lime, pecan caramel and sweet potato.
"Being Southerners, you can make almost anything out of what you have in season right there."
One custard, "red velvet," Love describes as a mix of crème brûlée and pecan pie that garners one of two reactions: "either 'it's too sweet' or 'it's so sweet I gotta have it!'"
"We have a lot of customers that are from the South," Love says, "so they buy from us. Then we get Northerners who try it for the first time, and they say, 'Wow. I've never had nothing like this!'"
The classic Southern chess pie is another specialty. Love says, "We have our own variation on it. We add some things to it, but we never forget the core of what it is. Real chess pie eaters know if it's real because then you can smell the butter coming out of it. That pie is the best reason you'll ever have to go to the gym!"
Love's offerings change from month to month, depending on the weather and the availability of ingredients. "We try to do everything in season," Love says. "Right now, we're really doing strawberry custard. We keep it really cold. It reminds people of eating custard ice cream."—Michael Jackman
Find Love's Custard Pies on Saturdays and Tuesdays at Eastern Market, Shed 2, Stall 258; check out the website at lovescustardpies.com.
Baking in the Back
Pinwheel Bakery
When it comes to baking, having another business as a partner can be a smart move. So says Ann St. Peter of Pinwheel Bakery. Almost two years ago, tired of the hassle of baking and running a retail, she gave the front of the house over to longtime friend and former co-worker Sandi Heaselgrave, who now runs the coffee shop Red Hook out of it, selling Pinwheel's baked goods.
"It's worked really great. We're basically like roommates. We're two separate businesses entirely. She's a wholesale customer of mine who just happens to be four feet away," St. Peter says, adding with a laugh that "people still ask her where she gets her baked goods, even though we're standing right there making them."
The move has freed up St. Peter to focus on production, and the business thrives on its wholesale sales to a bunch of different cafes and restaurants around town. There's a steady market for excellent baked goods among the area's midlevel restaurants, as only the highest-end establishments can keep a pastry chef on staff full time.
St. Peter initially got into baking as a way to get away from the shouting, arguing and chest-thumping associated with the "hot line" in restaurant kitchens. After working for a now-defunct Royal Oak restaurant with an especially obnoxious all-male staff, St. Peter found sanctuary in doing the restaurant's baking with the owner's Czechoslovakian mother, who made everything from scratch bread. Before long, St. Peter had gone through an old-fashioned apprenticeship. To her it remains the best part of being a baker: "Enjoying the people you get to work with."
Much of her baking involves cakes and cookies, and the closest she gets to pies is a creation called a "galette." "It's like a 'freeform pie,' a really rustic pie, or kind of like a loose interpretation of a pie. There's a shell, but not a pie pan. It almost looks like a pizza. She's also experimenting with savory galettes, and she says, "Today's galette is farmer's cheese, zucchini, sweet corn and basil. It's basically our answer to lunch offering."
Asked why baking seems to be taking off, she says, "I think it's just a natural flow of people wanting homey things. Cupcakes are small, homey reminiscences of childhood, and pies are reminiscent of a simpler time. Also, you can really utilize local ingredients with pies. In fall, you have all those apples, and in the summer you have all the berries. They're a great way for people to showcase what's native to their area. —Michael Jackman
You can buy Pinwheel's baked goods at Red Hook, 220 W. Nine Mile Rd., Ferndale; 248-398-8018; [email protected]
Making it Big
Achatz Handmade Pie Co.
No newcomer to the pie field, Michigan's Achatz Handmade Pie Co. is well-established, with 20 years of baking under its belt. But it all started as a home business. In 1993, husband-and-wife duo Wendy and David Achatz began baking pies out of their Victorian home in Armada, Mich.
Achatz Handmade Pie Co.'s Renee Brown tells us, "Pretty soon, people started lining up around the block around their home, which they had converted into a small restaurant."
Five years ago, the Achatzes moved the operation to a nearby 10-acre apple orchard, but the pies are still made the old-fashioned way. Owners David and Wendy Achatz, take pride in using nothing but pure and natural ingredients. Many of the recipes have been passed down for generations, and Achatz Handmade Pie Co. is working hard to carry on the tradition.
"We pretty much bake pies around the clock now," Brown says.
The Michigan four-berry pie is the most popular, featuring blueberries, blackberries, raspberries and cherries, capped with Achatz's signature crumb topping. Other pies include the banana split pie, made with vanilla cream, bananas, pineapple, cherries, whipped cream, walnuts and dark chocolate, as well as the caramel nut apple pie, with roasted and salted pecan halves, and whole cashews drizzled with warm caramel.
Achatz's savory pies include chicken or beef pot pie, Mediterranean quiche and a seasonal seafood pie with shrimp, clams, scallops, potatoes, sautéed onions and a homemade creamy sauce.
Although this family-owned business has been featured on Good Morning America, The Rachael Ray Show and The Today Show, to name a few, it still manages to stay down-to-earth.
"We still hand-crimp every single double crust pie," Brown says. —Princess Gabbara
Achatz Handmade Pie Co.'s main location is at 30301 Commerce Blvd., Chesterfield; 586-749-2882; achatzpies.com for more locations.
Taking the Cake
Cake Ambition
Not all local upstart bakers started out with a business plan. For Cake Ambition's Jessica Bouren, it began as a hobby. After making baked goods for her friends, co-workers and family, word got around how good they were, and requests came pouring in for her increasingly creative cakes. Bouren decided to leave her design job at a major firm in Louisville, Ky., and come back home to Michigan to pursue her cake-making career.
When designing cakes, Bouren uses the skills acquired from her bachelor's degree in fine art and design, and her experience as an interior designer, actually making sculptures in the medium of cake, which she learned all on her own with the aid of books and YouTube videos.
Without any work lined up when she first came back to Michigan, Bouren started hustling cakes to make a living. One such hustled cake was for a wedding at the Whitney in 2012. A staff member sampled the cake and liked it enough to call her in for an interview. Jessica was hired as the assistant pastry chef, a position she held for 30 days before being promoted to executive pastry chef. She worked that position for a year before deciding to focus on Cake Ambition.
Right now, Bouren rents space to bake in the kitchen of Detroit's Traffic Jam & Snug, but says she hopes to move into her own space with a storefront soon, preferably in Detroit. The plan is to make only cakes and cupcakes, having readymade cakes available in the storefront and a place where customers can come in with their own design ideas and work with her to create a concept.
She mostly bakes her cakes from scratch, including her European-style Swiss meringue buttercream frosting. The cakes are brightly colored and whimsical, and many are sculpted and shaped with pop culture themes. Her first sculpted cake was ambitiously, a Lionel Richie head that actually sang. (Well, Lionel Richie music was piped through a hidden speaker). —Katherine Montalto MT
To learn more about Cake Ambition, see cakeambition.com.
Michael Jackman is managing editor of Metro Times. Katherine Montalto is Metro Times' web editor. Princess Gabbara is a Metro Times editorial intern. Send comments to [email protected]