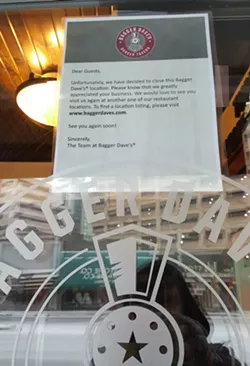 After little more than two years in business, the Greektown location of Bagger Dave's has closed.
According to an article on
Street Insider
, Diversified Restaurant Holdings, Inc., the company that created and operates the Bagger Dave's chain, closed eight of their underperforming locations yesterday, including the two-story location in Greektown. The seven other locations were in Indiana.
"DRH is committed to taking all appropriate and necessary actions to enhance value for all shareholders," Michael Ansley, Chairman, President and CEO said in the
Street Insider
article. "We have therefore chosen to optimize our portfolio and improve overall profitability by closing 8 underperforming Bagger Dave Restaurants. This will allow us to focus our attention on more profitable restaurants. Currently, five Bagger Dave's are operating under the new and improved prototype and we are very encouraged with the initial performance. As we gain experience with the brand, we have confidence that we have made the necessary improvements to drive future success of the concept."
Eighteen of the chain's restaurants remain in operation.