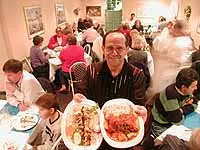 Steve's Back Room has been an east side institution since 1988. That is when Steven Kalil moved his catering and wholesale business to its present location and added a restaurant. It's all cheerfully marked by a bright yellow awning which stretches most of a city block; in the small retail store you can buy the baklava made next door or takeout dinner entrées or bulk spices, olive oil, wine or Irish oatmeal.
To get to the restaurant, walk through the saloon-style swinging doors at the back of the store. Tables in the 66-seat restaurant are covered with white linen and topped with fresh flowers. You'll find a slice of lemon in your water glass, and when the check comes, a square of shortbread for each diner sits on top. Ah ... it feels like a find.
Start with one of "Our Three Soups," all lentil-based. Rashta includes chick peas, noodles and spinach in a richly spiced broth. Squeeze the two lemon wedges that rest on the rim of the bowl, and you're enjoying lunch. Appetizers include sweet baby eggplants baked with tomatoes and topped with roasted peppers. On another evening we shared fool mudammas, a mixture of fava beans dressed with olive oil, garlic and lemon juice, and topped with diced tomatoes, scallions and parsley. Many of the appetizers easily serve four, and some can be ordered as a miniportion called a "monkey dish."
The entrée Sheikh-el-Mahshi tops baked eggplant with ground lamb, onions and spices, all cooked in a rich tomato sauce. I wasn't sure how all these flavors would come together — it sounded a little too close to spaghetti sauce — but it was delicious. The wide-ranging menu includes many vegetarian choices, and some of the entrées can be ordered in half-portions.
I found the stuffed grape leaves dry and underspiced, but koussa, yellow squash stuffed with the same combination of rice and lamb, was more successful. From the grill come all manner of kabobs – from lamb to swordfish and a great shish kafta.
On another visit, I ordered the rack of lamb. The tender baby chops were chargrilled, not quite to the "rare" requested, but close. The menu promised eight, but there were nine on the plate. The "minted garlic sauce" was missing; in its place bright green mint jelly that didn't appeal to me.
The come-with dinner salads are not extraordinary in content, but are appealingly fresh and lightly dressed with olive oil and lemon.
The Lebanese beer we ordered that evening was a little flat. Wine and liquor is served, or you can buy a bottle of wine in the store and have it with dinner for a $5 corking charge.
Steve's desserts include two interesting approaches to the apricot, a luscious treat in itself. Apricot pudding is a rich puree with no milk involved. Or try apricots baked in a sweet liqueur, filled with pistachio butter and served with yogurt. Stop right there and you have a spectacular dessert, but Steve adds a mountain of freshly whipped cream, which is at war with the flavor of yogurt and overwhelms the apricots.
The idea of a backroom restaurant suggests a cozy, intimate hideaway. Unfortunately, a lot of people discovered Steve's long before I did. What feels cozy at lunchtime on Wednesday can be claustrophobic on a weekend evening. So go for lunch, and don't forget to tell them to hold the whipped cream.