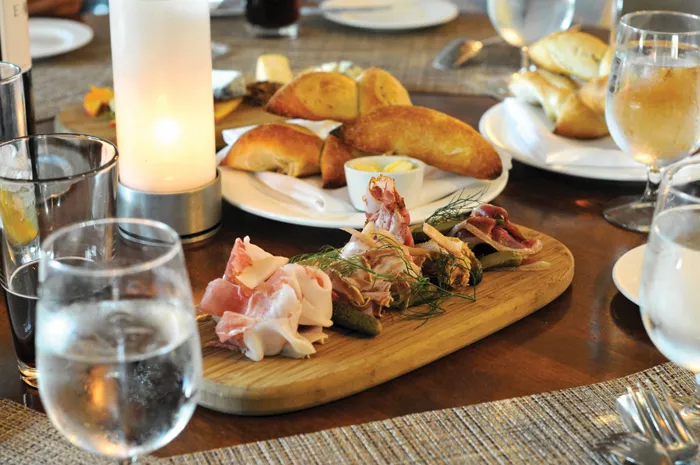 Visit Forest Grill tonight and it'll taste nothing like it did a few short years ago. For starters, the bread pudding is gone, a move that proved surprisingly controversial for the chef who pulled it from the menu. That chef is Nick Janutol, the restaurant's new chef de cuisine, and his decision to yank the old-fashioned dessert out of the mouths of his diners was just one of many designed to give Brian Polcyn's well-regarded Birmingham eatery renewed focus.
Janutol, who replaced outgoing chef David Gilbert, possesses not only the confidence and experience to make such sweeping changes, but also the permission of his boss to do so. Coming off engagements at the four-star Eleven Madison Park in New York and the Michelin-starred L2O in Chicago, the 29-year-old CIA-schooled chef is serious about food and wants those around him to be so too.
"I want Detroit to be a food city," says Janutol, a Grosse Pointe native. "I want there to be a ton of great restaurants. I think it's just starting to happen now. I think over the next five or 10 years, the scene will only get bigger and better. And that's what I'm banking on."
The new chef's approach to food might be serious, but it is eminently approachable. Pairings can be playful, presentations stunning, and flavors brighter, cleaner, and sharper than they have been here for years. A strikingly minimalist monkfish dish ($27) looks straightforward enough — a cylinder-shaped piece of meat resting in a pale sauce. But dig in and the flavors unfold like a well-penned beach read. To get to the sweet fish, one must slice through the deeply seared caul fat exterior. Between that caramelized fat facade and the fish center is a strata of finely shredded, lightly braised cabbage. The sauce is a light, frothy, and heady fish broth, and a garnish of small clams reinforces the seaside spirit of the dish.
Great chefs never make you regret ordering the chicken. It's easy at Forest Grill to sidestep the obligatory poultry entrée ($25) in favor of the far sexier halibut with fennel or prawn risotto, but that would be a mistake. A whole young fryer starts off in the blistering pizza oven before it's cut, paired skin-on with its partners, and finished in the oven. Those partners — braised artichokes, pickled onions, warm, melt-in-your-mouth strawberries — create a summer-in-Provence vibe. The chicken? Textbook.
Soups are served with a flourish, decanted into a diner's bowl a la minute. In the case of the stinging nettle soup ($10), a vivid green bisque is emptied into a clear glass vessel — all the better to appreciate its springy hue. But the color is misleading, with the vegetal notes taking a welcome back seat to luxurious shellfish flavor, courtesy of a scallop stock. Silken and buttery, but not milky or creamy, the soup is fortified with diced scallop and ramps. Served cold, a peach gazpacho ($9) is every bit as refreshing as it sounds. It is fresh, fruity, and pretty as a still life, thanks to a garnish of edible flowers and greens. Small orbs of cooked potato add a bit of heft.
Nearly half of all tables dining at Forest Grill start their meals with a charcuterie platter ($12/20); considering that chef-owner Polcyn literally co-wrote the textbook on the topic, that's a wise course of action. A wooden board is layered with rosy folds of prosciutto, striated porchetta, downy white pancetta, lean lonza, and spreadable duck rillettes. The whole affair is garnished with pickled peaches, cornichons, and grainy mustard.
It's not just the back of the house that received adjustments. An updated cocktail program has netted gains for fans of well-crafted aperitifs, with such entries as a Pimm's Cup ($12) with muddled cucumber or the lively Nasturtium Fizz ($15), composed gin, pineapple, and egg whites shaken to the consistency of clouds. The wine list is as robust as ever, with many trendy, familiar labels mixed in with less typical Old World gems.
We hope management doesn't stop here with its capital improvements. The dining room, a glassy, modern affair that seats about 70, could use some freshening up as well. Dated wicker chairs don't add much vigor to a room populated by a decidedly "mature" clientele, and the study-in-beige color palette can politely be described as "muted."
Still, when it comes to staying relevant in a fickle and shifting dining scene, Polcyn, who's been at this game for more than 30 years, rarely comes up short.
The Forest Grill is located in downtown Birmingham at 735 Forest Ave.; 248-258-9400; theforestgrill.com.