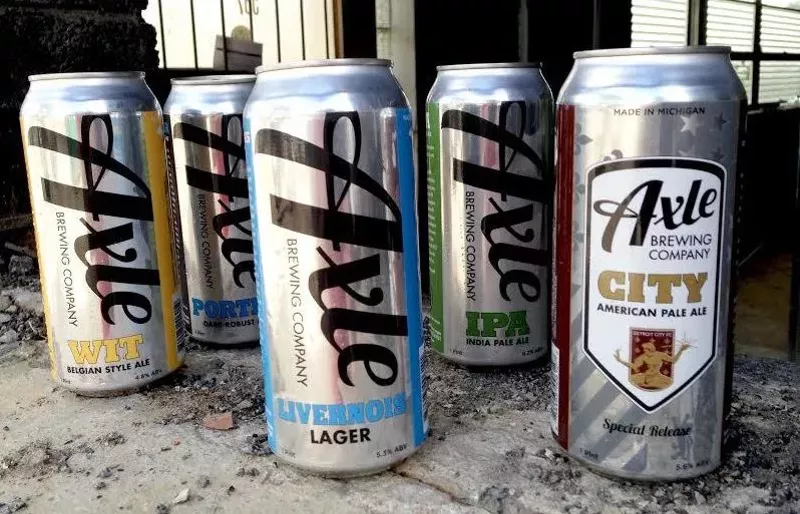 Every creator has his or her own muse. For Ferndale's Axle Brewing Company, that muse is the one and only President Donald J. Trump, our "very stable genius" president.
The brewery's president says Trump's bizarre weekend Twitter rant has inspired its latest limited edition beer, named "Very Stable Genius," due next month.
"Sometimes a great beer name comes in your sleep, or on a hike, and once in a great while when you hear a story on the radio and the beer you are drinking shoots out of your nose," the brewery announced on
its Facebook page
. "This was the latter. Coming soon..."
The tweets in question came on Saturday, following the release of journalist Michael Wolff's bombshell book
Fire and Fury: Inside the Trump White House
. The book,
written over the course of many months last year
, portrays a White House in a state of dysfunction and chaos, led by a Commander in Chief who allegedly
never even wanted the job
in the first place.
The book has sparked a national dialogue about Trump's stability and mental fitness, which only intensified after Trump himself decided to weigh in on the matter. On Saturday, Trump called the ongoing federal probe into Russian interference in the 2016 election a "hoax" and assured us that he is "like, really smart." In fact, in Trump's own words, he is "not smart, but genius... and a very stable genius at that."
Now that Russian collusion, after one year of intense study, has proven to be a total hoax on the American public, the Democrats and their lapdogs, the Fake News Mainstream Media, are taking out the old Ronald Reagan playbook and screaming mental stability and intelligence.....

— Donald J. Trump (@realDonaldTrump) January 6, 2018
....Actually, throughout my life, my two greatest assets have been mental stability and being, like, really smart. Crooked Hillary Clinton also played these cards very hard and, as everyone knows, went down in flames. I went from VERY successful businessman, to top T.V. Star.....

— Donald J. Trump (@realDonaldTrump) January 6, 2018
....to President of the United States (on my first try). I think that would qualify as not smart, but genius....and a very stable genius at that!

— Donald J. Trump (@realDonaldTrump) January 6, 2018
Curiously, Trump also invoked a comparison to President Ronald Reagan in the tweets, who was later diagnosed with Alzheimer's. Trump also claimed he is so smart he won the presidency on his first try. In fact, Trump
has made multiple attempts to run
starting as early as 1987.
Axle Brewing president Dan Riley told
the Detroit News
, "The beer itself really defies conventional logic and rational explanation," said "It's like, really delicious, and it's going to be huge, but also very limited. It's one of the most powerful beers in the world, yet incredibly delicate, even fragile."
He describes the beer as having an "ethereal orange hue."
"The confounding aroma entices with notes of frankincense and myrrh, and just a subtle hint of lunacy," added Riley, who opened his taproom and restaurant in June.
Axle Brewing Company's Livernois Tap is at 567 Livernois in Ferndale.