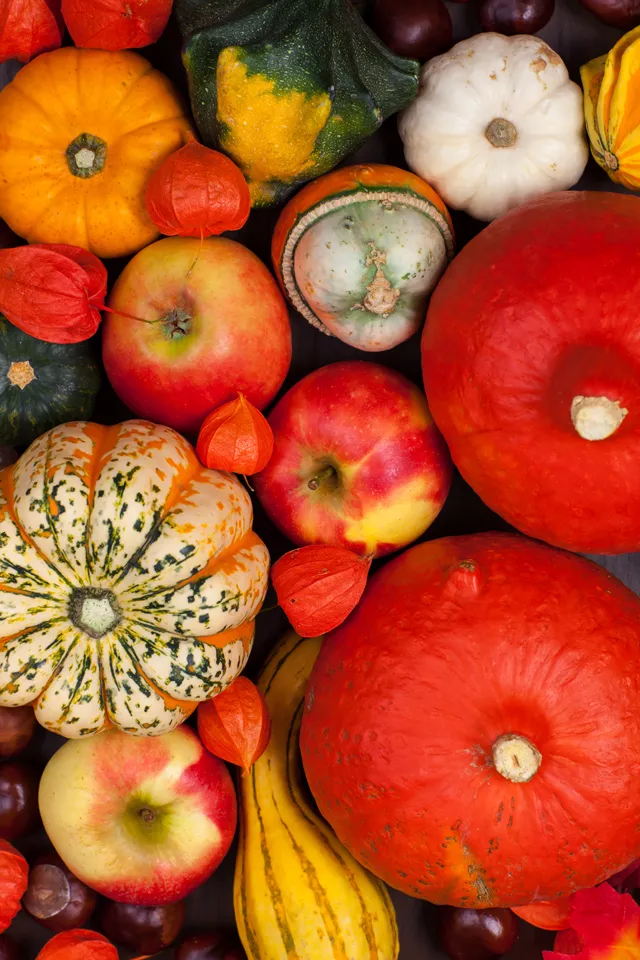 As fall comes around and we find relief from the record heat of this year's summer, Michiganders flock to cider mills and orchards to guzzle cider, pick their own apples and devour luscious, greasy cinnamon donuts. 
Unfortunately, this year is different. The lovely early spring (that most of us naively enjoyed) paired with an April frost caused a record amount of damage to our beloved apple crop. On average, Michigan yields 20-23 million bushels a year, according to the Michigan Apple Committee, but this year the crop size is only about 3 million bushels. As a result, many local orchards have cut down their season and eliminated "U-Pick" apple options, and some mills won't have any apples for sale at all. The loss is devastating to local growers, which is why this year your visit is needed more than ever. This is probably the best excuse you could possibly find to go support local growers and vendors by stuffing your face — if not with cider and apples, then with donuts, peanut brittle and the like. There are also more attractions than apples, with such draws as hayrides, petting zoos and more.
Almar Orchards 1431 Duffield Rd., Flushing; 810-659-6568; almarorchards.com: This orchard, located just outside of Flint, offers a year-round petting zoo with a herd of reindeer, hayrides in season, and all-organic selections of donuts, honey, bread, fudge and caramel corn, both from the orchard and local businesses. Almar's has also begun raising an old-heritage breed of pig for its organic Berkshire pork. And don't miss out on the hard cider, J.K.'s Scrumpy Farmhouse Organic. One Short Order reader tells us, "It's sweet, tart and fizzy with the alcoholic strength of beer and the heady fragrance of Champagne." It's also available at area beverage retailers. Open 9 a.m-6 p.m. Monday-Saturday; noon to 6 p.m. Sunday, year-round (except holidays).
Apple Charlie's South Huron Orchards and Cider Mill 38035 S. Huron Rd., New Boston; 734-753-9380; applecharlie.com: Between the bakery, the animal farm, the reasonable prices, the hayrides, the glassed-in cider press, and the handicapped-accessible facilities, the proprietors take pride in the cleanliness and quality of this 60-year-old attraction. Open 9 a.m.-8 p.m. seven days a week. Closes Dec. 31.
Blake's Orchard and Cider Mill 17985 Armada Center Rd., Armada; 586-784-5343; blakefarms.com: Blake's apple empire encompasses the Armada mill, two Armada orchards, and another one in Almont. But it's the mill that has the petting zoo for the kids and the orchard products for your winter larder. The orchard is still harvesting late-bearing apple trees, and the U-cut Christmas trees harvest will begin in mid-November. Open 8-6 Monday-Thursday, 8 a.m.-7 p.m. Friday and Sunday, 8 a.m.-9:30 p.m. Saturday. Closes Dec. 23.
Dexter Cider Mill 3685 Central St., Dexter, 734-426-8531; dextercidermill.com: With more than 120 years of operation, Dexter Cider Mill bills itself as the longest continually run mill in the state, serving wood-pressed cider, donuts, apple pie, caramel apples and apple-nut bread daily. In addition to jellies, butters, hot sauces, boiled cider, maple syrup, honey and popcorn, expect pickled asparagus, soy nuts and even cider slushes. Their award-winning Dexter Cider Mill Apple Cookbook is also available for sale. Season ends mid-November. Open 9 a.m.-5 p.m Wednesday-Sunday.
Diehl's Orchard & Cider Mill 1479 Ranch Rd., Holly, 248-634-8981; diehlsorchard.com: Diehl's has every cider mill experience staple. They'll be celebrating their 31st annual "Ciderfest" Sept. 29-30 which features a one or four mile scenic run, craft show, apple pie baking contest and live entertainment. Open daily 9 a.m.-6 p.m. until Halloween. Closes Nov. 1.
Erwin Orchards Inc. 61475 Silver Lake Rd., South Lyon, 248-437-4701; erwinorchards.com: After James N. Erwin planted the first tree in 1920 the Erwin family has been steadily growing to 200 packed acres of fruit, cider, a corn maze, petting farm and about anything else imaginable that can fit in an orchard fortress. Undoubtedly Erwin will have something for everyone. Open 6 a.m.-6.p.m. Monday-Friday, 6 a.m-7 p.m Saturday and Sunday. Closes Nov. 1.
Franklin Cider Mill 7450 Franklin Rd., Bloomfield Hills, 248-626-8261; franklincidermill.com: One of our staffers remarks: "It's the best-tasting cider, and the hot donuts are to die for. The brown paper bags they come in become translucent with grease. The cider press is right there so you can witness the apple carnage. Watch out for bees." Open 7 a.m.-6:30 p.m. Monday-Friday; 8 a.m.-6:30 p.m. Saturday-Sunday, until Nov. 25. For those going late in the season, the mill offers this appealing opinion: "The sweetest cider is the day we close."
Historic Parshallville Grist Mill 8507 Parshallville Rd., Fenton; 810-629-9079; parshallvillecidergristmill.com: A "Michigan Historic Site," the 143-year-old mill is one of few water-powered mills left in the state. They make cider, donuts, caramel apples and homemade apple pie. Their cider is personally heralded as being made the "old-fashioned way" creating a different taste depending on available apples every time. Open 9 a.m.-6 p.m. Monday-Sunday. Closes mid-November.
Hy's Cider Mill 6350 37 Mile Rd., Romeo; 810-798-3611; hyscidermill.com: Fresh cider and "U-Pick" apples are the main draw at Hy's. If you're feeling a bit wild they also offer up a recipe on their website to create a caramel apple smoothie, using their special cider. Open 11 a.m.-6 p.m. Saturday-Sunday. Closes Oct. 28.
Long Family Orchard & Cider Mill 1540 East Commerce Rd., Commerce, 48382; 248-360-3774; longsorchard.com: Besides offering up fresh cider and apples, throughout October Long's has a 5-acre moonlight corn maze on weekends to explore. Also, just in time for Halloween they offer an enormous pumpkin patch for your picking. Open noon-6 p.m. Monday-Friday; 9 a.m.-5 p.m. Saturday-Sunday.
Markillie Orchard & Cider Mill 5200 N. Latson Rd., Howell 48855; 517-546-3485; markillieorchard.com: Offers 12 different varieties of apples to choose from that are already picked. They also sell fresh pressed cider, caramel apple chips, maple syrup, salsa and "Naturally Nutty" products. Open 10 a.m.-6 p.m. Saturday-Sunday. Closes Nov. 14. 
Miller's Big Red Apple Orchard 4900 32 Mile Rd., Washington Twp.; 586-752-7888; millers-bigred.com: Miller's has wagon rides, a petting farm and the alarmingly titled "Straw Mountain." This year there will be U-Pick raspberries and pumpkins, but there will be no U-Pick apples. Open daily 8 a.m.-7 p.m. Closes late October. 
Obstbaum Orchards 9252 Currie Rd., Salem; 734-560-2840; obstbaum.com: A short ride from Plymouth and Northville, Obstbaum (German for "fruit tree") offers the chance to watch cider being pressed while you munch on donuts and swill down cider. Owners Hans and Lynda Neuroth enjoy answering questions or accommodating special requests. Find their full range of products on their website. Open 10 a.m.-6 p.m. Saturday-Sunday. (They'll close an hour earlier after daylight savings time). Season ends late October.
Paint Creek Cider Mill 4480 Orion Rd., Oakland Twp.; 248-656-3400; paintcreekcidermill.org: Building upon traditional cider mill offerings, Paint Creek also delivers for those with desires for a larger, more varied menu with homemade apple bread, pistachio nut bread, an ice cream parlor and coney dogs. Enjoy a walk on the scenic Paint Creek trail or a relaxing evening on their porch. Open daily 9 a.m.-7 p.m. Closes mid-November. 
Parmenter's Northville 714 Baseline Rd., Northville; 248-349-3181; northvillecider.com: Northville's second-oldest continuously operating business has the usual favorites — cider, donuts, caramel apples, apple butter, pumpkin butter, honey, maple syrup — you'll find cider slushes, apple chips drizzled with caramel, white cheddar cheese, cherry salsa, wines and candies ranging from lollipops to wax fangs. Open daily 10 a.m.-8 p.m. until Nov. 18 (though they tend to close a bit earlier after the switch back to daylight savings).
Plymouth Orchards and Cider Mill 10685 Warren Rd., Plymouth; 734-455-2290; plymouthorchards.com: The retail store stocks ciders, donuts, unusual jams and jellies, maple syrup and honey; a visit offers the chance for a scenic wagon ride or a stroll through the pumpkin patch, where "U-pick." The store also stocks several varieties of apples, including those now in season, such as Cortland and Red Delicious. Picturesque barnyard animals include goats, sheep, chickens, bunnies, pigs, cows and llamas. Open daily from 9 a.m.-7 p.m. until Nov. 6. The mill's secondary market on Ann Arbor Road in Plymouth is open daily 10 a.m.-6 p.m. until Nov. 21.
Porter's Orchard 12060 Hegel Rd., Goodrich; 810-636-7156; portersorchard.com: A jack-of-all trades with free hayrides, "U-pick" raspberries, pumpkins, fresh donuts, pony rides, a corn maze, hay rides, fudge, ice-cream. Also, they handle making fresh salsa, trail-mix and jams. Check the website for special events including dates for a motorcycle show and flea markets. The kids can have their fun too with Porter's large petting zoo open. Open in October 9 a.m.-6 p.m. Monday-Friday, 9 a.m.-7 p.m. Saturday, Noon-7 p.m. Sunday. Closes Halloween. 
Rochester Cider Mill 5125 N. Rochester Rd., Rochester; 248-651-4224; rochestercidermill.com: The Barkham family is celebrating the 31st year of their cider mill which claims their cider is "never the same from week to week, except for its excellent flavor and taste." Besides its freshly produced donuts and drinks, they have an assortment of apples and a giant hay climbing pyramid for fun. Open daily 7:30 a.m.-6 p.m. daily. Closes Dec. 31. 
Spicer Orchards Farm Market and Cider Mill 10411 Clyde Rd., Fenton; 810-632-7692; spicerorchards.com: The Spicer family has a history of farming in the Detroit area dating five generations back. Their market features fresh produce, cider and doughnuts along with the family's winery specialties. Open daily 9 a.m.-7 p.m. Closes Dec. 31. 
Stony Creek Orchard and Cider Mill 2961 W. 32 Mile Rd., Romeo; 586-752-2453; stonycreekorchard.com: Established in 1978, Stony Creek has all the regular bases — apples to jams to donuts — covered, but on the weekends it really shines. Here you'll find ice cream, homemade apple pie, lunch items and something called the "Stony Apple" — apple slices slathered in hot caramel sauce, whipped cream, nuts and other toppings. "U-pick" is available this year for pumpkins and raspberries only, and their salesroom offers shipping made-to-order gift boxes. Open daily 9 a.m.-6 p.m. until Dec 31. From Jan. 6 through March open 10 a.m.-5:30 p.m. Friday-Sunday.
Three Cedars Farm 7897 Six Mile Rd., Northville; 248-437-8200; threecedarsfarm.org: The farm's website has a video on its home page featuring Hillbilly Joe who delivers a video rundown of what all visitors should expect from Three Cedars Farm: Pumpkins, hay rides and every variation of cider and donuts under the sun available in their "hut." Mr. Joe says: "I'm born a hillbilly, I've been raised a hillbilly and I'm gonna die a hillbilly." A sure unique cider mill experience. Open 10 a.m.-8 p.m. Sunday-Thursday; 10 a.m.-10 p.m. Friday-Saturday. Closes Halloween. 
Verellen Orchards 63260 Van Dyke Rd., Washington; 586-752-2989; verellenorchards.com: Their general store carries a variety of seasonal produce including an array of apples and cider. They also carry cookies, pies and donuts baked fresh every morning. Open year round, seven days a week, 6:30 a.m.-6 p.m.
Wasem Fruit Farm 6580 Judd Rd., Milan; 734-482-2342; wasemfruitfarm.com: This family-run orchard located in Augusta Charter Township offers "U-pick" pumpkins, and raspberries, donuts, unpasteurized cider, honey, pears, plums. Though the mill is housed in a (slightly) less-than-picturesque building, it's still a wonderful place to take the kids. Open Tuesday-Sunday 9 a.m. to 6 p.m. until Oct. 31. Call ahead if you plan visiting past Halloween as Wasem's says after that the "hours start getting somewhat sporadic."
Westview Orchards & Adventure Farm 65075 Van Dyke Rd., Washington; 586-752-3123; westvieworchards.com: Established in 1813, the orchard encompasses 188 acres of what they tout as "good old-fashioned flavors and fun." It features a 6-acre corn maze, 40-foot slide and ice cream and sweet shoppe bakery. Be sure to at least give a passing glance to their apple fritter or French toast casserole. Cider Mill open daily from 10 a.m.-5 p.m. Sweet Shoppe open daily 11 a.m.-6 p.m. Closes Halloween. 
Wiard's Orchards Inc. 5565 Merritt Rd., Ypsilanti; 734-390-9211; wiards.com: Founded in 1853, this is the supermegaplex of orchards. Wiard's (pronounced "wired's" not "weird's") features a pony, corral, a farm market, a karaoke stage, hayrides, corn maze, giant inflatables, and — oh, and apples. Lots of apples; served with the requisite fresh-pressed cider and hot cinnamon donuts, available at the Country Store. They also have "U-pick" pumpkins. In short, this charming cider mill seems to have it all — incorporated. Wiard's Country Fair is open 10 a.m.-6 p.m. Wednesday-Friday; 11 a.m.-6 p.m. Saturday-Sunday. Admission is $8.75 Wednesday-Friday; $12.50 Saturday-Sunday. Children under 2 years old are free. Closes Oct. 26. Cider Mill Store is open Tuesday-Sunday 9 a.m.-6 p.m.
Yates Cider Mill 1990 E. Avon Rd., Rochester Hills; 248-651-8300; yatescidermill.com: Surrounded by beautiful parks fit for picnics and hiking, the Yates Cider Mill has as many as 24 varieties of apples — usually five or six different kinds at once — go into its ciders. In addition to the main store's donuts, butters, apples and syrup, a second shop can be found across a small bridge selling such specialty items as Frankenmuth fudge. Pair a donut or the fudge with one of the 20 different flavors of premium ice cream served at the recently added Ice Cream Shoppe, which runs through September. November's chill brings with it Yates hot cider wassail, and pony rides are available weekends for the kids. Reserved tours of the cider-making process and press operation are given through November. Open 7 a.m.-7 p.m. Monday-Friday; 9 a.m.-7 p.m. Saturday-Sunday. Closes Dec. 22. A recently opened outpost location at Great Lakes Crossing Mall will be open year-round. Yates says the outpost will always be offering their favorites, but will only have cider as long as the mill does.
Special thanks to editorial intern Emily Riopelle for her help compiling these listings. See anything omitted or incorrect? Let us know! Call 313-202-8043 or e-mail [email protected].