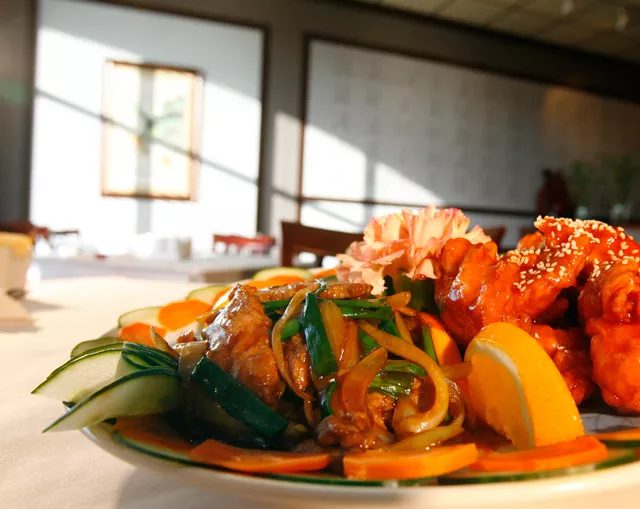 Shangri-la Garden
27626 Middlebelt Rd., Farmington Hills
248-474-8183
The sushi chef at Shangri-la Garden made me think of the Maytag repairman — the man had nothing to do. On a couple of recent visits not a single diner made use of his talents, including me. This is a good sign, in my opinion — I'm guessing it means the customers know Shangri-la's reputation for authentic Chinese food, so they're not messing around with the Thai and sushi that owner Cholada Chan has added to the menu in her third area restaurant — and hopefully not with the American-style Chinese dishes either.
Chan's flagship, the West Bloomfield Shangri-la, goes so far as to keep live fish in a tank — pick your own right before you eat it, just like in China. The Farmington Hills branch has neither live fish nor dim sum, but it's holding up its end. Large parties of Chinese, Anglos and both were filling the round tables, scattered across several rooms, on a recent Saturday night.
Chan does serve plenty of meiguorende kouwei — dishes cooked to American taste. The first plate on the menu is almond boneless chicken, followed by various lo meins, sweet and sour chicken, and even chop suey, all served with an egg roll and fried rice. (This combo is available as a $9.95 "brunch" on Sundays.) But less familiar dishes, zhongguorende kouwei, "to Chinese taste," abound as well. Go there. Try the chef's specials and the dishes labeled Shanghai-style.
The space used to be Gourmet Garden, also a Chinese place where you could get authentic dishes — if you tried hard enough. It's spread out and light, with very little red in the half-dozen rooms. Bamboo plants, blue tones, a wall of Chinese characters and Japanese prints around the sushi bar make for a soothing atmosphere, the opposite of the crowded and noisy ambience mainland Chinese prefer in their restaurants. The ladies' room contains a tree.
For appetizers, scallion pancakes are mild but satisfying, served with sweet plum sauce. Better are spicy salted quail, served whole with lots of crusty skin, onions and peppers. I'll bet soft-shell crab would be similar and scrumptious; dumplings and chicken wings are other fried starters. Cold sesame noodles are disappointing, although made with cucumber — which somehow taste better in sticks than in slices — they need a good dose of red pepper flakes.
I did stray to the Thai side for soup, for love of tom kha gai. A $5 bowl big enough for two as a starter includes big chunks of chicken, mushrooms, sliced tomato and lemongrass in a rich golden-orange broth. If the rest of the Thai menu is as accomplished as this dish, it would be worth checking out after you've exhausted the interesting parts of the Chinese menu.
That would include "House Special Lamb in Two Styles." The better style is Shanghai, with a strong lamb taste, a little sweet (a recipe I found online contains sherry and honey). Also interesting is lamb with basil, though the basil dominates.
I tried "Grouper in Garlic Sauce" from the Shanghai list, steamed soft, also a little sweet. Although the vegetables reminded me too much of meiguorende kouwei (baby corn, broccoli, button mushrooms), it was agreeable. "Grouper in Black Bean Sauce" is another semi-well-known dish worth trying, as are "Braised Minced Pork Balls" and "Braised Pig's Knuckles."
"Stewed Ribs Shanghai-Style" are slow-braised, possibly with wine, certainly with soy sauce. They're stewed in a rich red-brown gravy, a bit gingery, and cooked with lots of parsley.
My favorite dish was "Chinese Eggplant Stuffed with Minced Shrimp." The diagonally sliced pieces are bursting with stuffing; they're deep-fried and then braised with whole garlic cloves in a sauce of wine, soy, scallions — and lemongrass? The vegetable is sensually spongy, the flavors lush, reminding me of the many, many times I ate eggplant in China.
Shangri-la, you'll remember, is a fictional Eden-like valley from James Hilton's 1933 novel, set near Tibet. When I read the book, and since, I could never understand how paradise could be cold (Adam and Eve are never pictured in down jackets). In 2007, I visited a tourist trap now called Xianggelila (sound it out) one province over from Tibet. The sun is brighter at 10,500 feet, but it doesn't warm you. That was the job of the province's famous hot pot. A soup served with an egg cracked into it, chock-full of long noodles and meats and vegetables, it was the way to stop shivering while your taste buds woke up.
Shangri-la Garden has one hot pot on the menu. If it serves that same function in the Michigan winter, I'll call it paradise.
Shangri-la Garden is open Sunday through Thursday 11 a.m. to 9:30 p.m. and weekends 11 a.m. till 10:30 p.m. Full bar.