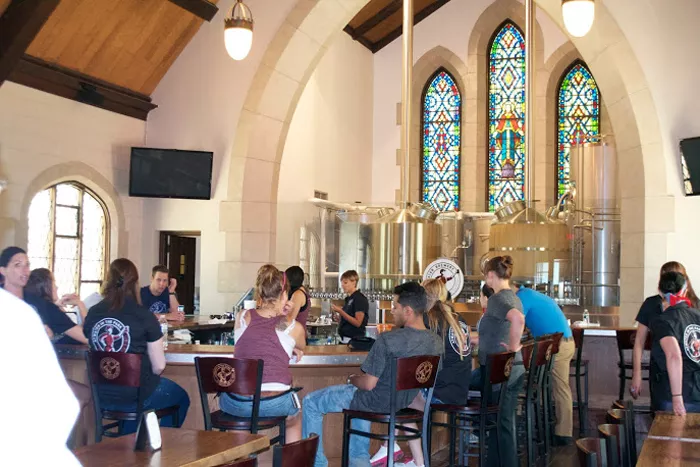 1175 Lakepointe St., Grosse Pointe Park; 313-344-5104; atwaterbeer.com
Open 2 p.m.-midnight Monday-Thursday, 2 p.m.-2 a.m. Friday, noon-2 a.m. Saturday, noon-10 p.m. Sunday
We actually missed Atwater in the Park the first time we rolled around. We were expecting a heavily pronounced entrance, something over-the-top and loud. Instead, situated on the corner of Lakepointe and Kercheval, is a patio outfitted with light wood picnic tables topped with umbrellas. A small bar is covered by an awning where more modern high chairs are situated, but only a few.
We almost plunked down outside. The weather was beautiful and, while it was pretty busy, there were enough open seats to enjoy a small space alone. We decided, however, to stroll inside and find out what, exactly, a church-turned-brewery looks like.
Remaining outside would have been a big mistake. The true beauty of the place is its interior, where Grace United Church of Christ has been converted into an Atwater microbrewery. The conversion has the dining room situated in the former sanctuary, where pews line the walls and serve as benches at the free-standing tables that litter the room. A large, oval-shaped bar serves as one focal point, while enormous brew tanks encased in glass, backlit by blue stained-glass windows, serve as another.
Cinder-block walls are painted white, and the rafters remain corkboard brown with dark wood vaulting.
From the rafters hang several flags, including one that represents our country as well as the brewery. While enough remnants remain to pay homage to the space's time as a place of worship, certain elements of the design allude to a German dining hall, particularly the lighting fixtures and the beer.
By 6 p.m. the place is busy. In fact, people are waiting to find a seat. There's no hostess, so people are craning their necks, looking around for the right amount of chairs.
A guy scoots into the seat next to us, immediately asking, "Where's Jesus?"
Jesus is the centerpiece of the large, ornate, and probably 12-foot high stained-glass windows at the front of the room.
We can all stare at the Holy Son as we drink to excess. Beer is proof that God loves us and wants us to be happy. Or something.
"I feel like I'm back in Heidelberg, Germany," says the lady next to us as we stuff our face with a turkey burger on a pretzel bun. "I love wiener schnitzel."
German fare is on the menu at Atwater, as well as burgers, some bar appetizers, and seafood options. The menu was crafted by the Epicurean Group, promising to be particularly delicious. There are nightly specials that the waitress informs us will change on a week-to-week basis, and there is a huge beer menu.
While our waitress was slightly hands-off, we heard a friendly bartender offering sage advice on ordering beer to her customers in a genuine and friendly manner. Our food arrived quickly, with several staffers popping by to make sure we had enough napkins and condiments and that everything tasted fine, which it did.
Of course, it's the setting here that really steals the show, offering up well-known local craft beer in a wholly unique setting. If you come for only one reason, the ability to drink beer in church is reason enough.