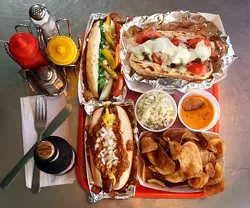 Atomic Dawg
2705 Coolidge Hwy., Berkley
248-398-3294
facebook.com/theatomicdawg
Handicap accessible
Hot dogs, burgers, sausages: $3-$7
Hours: 11 a.m.-7 p.m. Tuesday-Saturday
Chicago has Hot Doug's and Denver has Biker Jim's, gourmet hot dog joints that have been featured on cable food TV shows for their exotic offerings like rattlesnake or buffalo dogs and duck-fat fries; now, sleepy Berkley can lay claim to a fancy hot dog eatery of its own. Atomic Dawg may be less esoteric than its bigger-city brethren, but its creative and tasty combinations go far beyond what you'd encounter at the local coney. The retro-cool design and friendly neighborhood atmosphere are even more reason to pay a visit, even if you don't live nearby.
Entering the restaurant, you'll find yourself in a small front room with a couple tables, a cooler for drinks, and a counter where you place your order. Behind this are two rooms with additional seating, both with attractive hardwood floors and '50s-modern vintage decor — think your cool arty friend's flat more than a kitschy "Johnny Rockets" feel. A note to the physically challenged: though the front room is barrier-free, the back two rooms are accessible only by a short set of stairs. If you're coming with a crowd, the far back room is especially conducive to groups, and would make a great spot for a kid's birthday or other casual gathering. Grab a seat anywhere and the ultra-friendly staff will bring out your order in a jiffy. On one occasion, our server made pains to apologize for the wait, although I don't think we waited more than 10 minutes, hardly something to complain about.
The bulk of the menu is made up of all-beef hot dogs with various toppings and fillings. You'll find some classics, like a chili dog or a picture-perfect Chicago dog, and some combinations that are destined to become new favorites. Depending on the dog, some are split and grilled; others are the long, skinny variety. Buns vary from dog to dog, the more heavily topped wieners getting a more substantial bun to accommodate their girth. Two favorites among my party were the "BBQ Hog Dawg," split and filled with pulled pork, slaw and barbecue sauce, and the "Kingston Dawg," with fresh pineapple, mango and a zingy jalapeño sauce. The pineapple could have been chopped slightly smaller for ease of eating, but the flavors were spot-on. Regardless of what style of dog you choose, they all have a satisfying flavor and the right amount of "snap" to the casing.
If you're in the mood for something more substantial, Atomic Dawg has you covered as well, with a variety of quarter-pound sausages. They don't make their own, but source them from the best in town, Detroit's Corridor Sausage Co. The variety of meats is expanded upon, with chicken, turkey, pork, lamb and even sometimes duck sausages available. The sausages are given a slightly more upscale treatment; you'll find accoutrements like hoisin glaze (on the Vietnamese chicken sausage) and blood oranges (on a duck sausage special). The sausages are highly flavorful on their own; paired with toppings that compliment each sausage's seasonings, they're just about perfect. Ringing up at less than $7, it's a lot of bang.
For diners who don't go for encased meats (or meat at all), there are a few options — mini burgers, mini veggie burgers, grilled cheese and chili. On one visit, the burgers were on the dry side and I couldn't detect the grilled onions they were supposed to be topped with, but they'd do in a pinch. We didn't try the veggie burgers, but they are made in-house (note to vegans, the recipe does include egg). The management has let vegetarian customers know that they are "working on it" as far as a veggie dog option, so stay tuned. The grilled cheese won the praises of a co-diner, who called it "superb," and the chili was just as you'd expect a good quality coney chili to be.
All of this is bound to make you thirsty; the restaurant stocks some nostalgic beverages, such as Faygo and Crush in glass bottles, Mexican Coke, Dr. Brown's and others. Although I was disappointed (although not surprised) that Dr. Brown's is made with high-fructose corn syrup, I had to try their celery soda, aka "Cel-Ray." The slightly citrusy beverage does indeed have a vegetal, celery-seed finish, which I found to be a great complement to my meal. Atomic Dawg also makes floats, shakes and malts (not listed on the menu, but being a malt lover, I asked) if you're looking for dessert.
Atomic Dawg's chef Gary Brunner is a veteran of the cramped, fast-paced short order kitchen format; years ago, he owned and ran Royal Oak's Café 317, where he churned out high-quality, low-priced breakfasts to neighborhood regulars and hungover hipsters. It's heartening to see him back in the saddle doing what he does best. Although there are a few minor drawbacks, like the limited hours and menu and the lack of adult beverages, we predict success; family-friendly Berkley is a perfect spot for the new venture. We'll be shocked if they're not overrun in the next couple months, as kids are getting out of school for the summer, so go now if you want a more laid-back experience.
Noelle Lothamer dines for Metro Times. Send comments to [email protected]