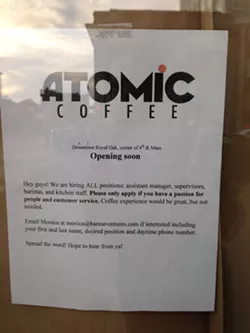 The shuttered Caribou Coffee Co. location in Royal Oak appears to be getting some new life, according to a local development company.
Atomic Coffee, owned by Hanna Development and Management of Royal Oak, is the replacement for the Minnesota-based coffee chain, Caribou Coffee Co., which closed in 2013 according to an employee of the development firm. The company also owns and operates
Iron Horse bar and pizzeria
and
Goodnight Gracie Jazz and Martini Bar
and
D'amato's Italian Restaurant
- both in RO's historic Washington Building. Details about the timing of the opening were not immediately available. We'll keep you posted on developments.
The Royal Oak Caribou location on Main Street has remained vacant following the 2013 closing of nine Michigan locations - all of which were in Metro Detroit. The chain closed some 80 locations nationwide and
re-branded others as Peet's Coffee and Tea - both owned by Ludwigsshafen, Germany-based Joh. A. Benckiser Group, according to Mlive.com.


The sign posted on the window says the place is hiring for all positions, plus an Indeed ad recently posted a job for an assistant manager position, suggesting that the shop's opening may be near.
Royal Oak has experienced a dramatic shift over the years, from the once oddball, twin sister to neighboring Ferndale, chock full of edgy clothiers and night life to more of a family-friendly dining destination, complete with the newly-installed Buffalo Wild Wings in the former Barnes and Noble location.