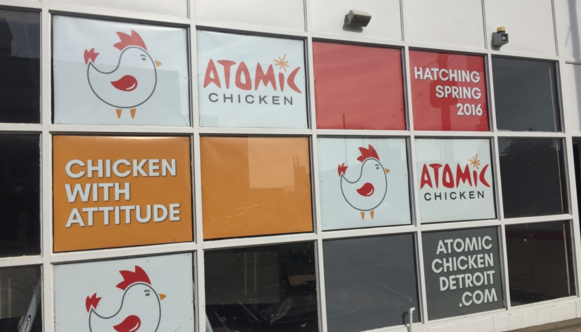 A New Center restaurant has "taken on a boarder," so to speak.
That restaurant is Scott Moloney's Atomic Chicken, located on the northeast corner of Woodward Avenue and Milwaukee Street since the spring of 2017.
The restaurant, which has been closed for the last several weeks, is scheduled to reopen next week,
Eater Detroit reports
. When it does, some of the space will be devoted to Buffy Campau's culinary creations, which she normally serves out of her food truck.
Buffy's Mexi-Casian is know for giving Mexican classics a "pivot to Asia."
This isn't the first time two restaurants have bunked together. In fact, it's something that's been pioneered by the big chains. (Has anybody seen the
Taco Bell-slash-KFC in Oscoda
?)
Moloney also tells
Eater Detroit
that he and his partners are considering giving over some of Atomic Chicken's space to a "casual restaurant incubator."

Atomic Chicken is at 6500 Woodward Ave., Detroit; 313-782-4810; atomicchickenworldwide.com.