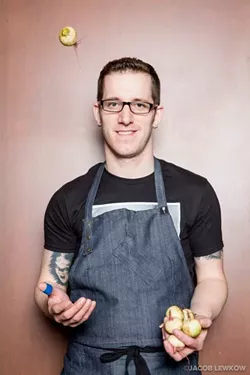 It seems that with increasing frequency, we're turning to our chef sources to answer even the most mundane of questions — on everything from their favorite diners to the best retailers to purchase a cast iron skillet to their top-secret ramen hacks. That's why we're seeing more and more cooks with their own television series, or millions of followers on Instagram, or penning best-selling books. There's something about feeling like we have our own personal insider in the kitchen that draws us to this form of infotainment.
Locally, we're seeing more of our own chefs breaking into the national scene, their menus lauded by food critics, their faces gracing the casts of network reality cooking shows. To that end, we figure, who better than our metro Detroit culinary super stars than to advise us on all manner of dining in Detroit?
And so with that, we introduce to you our "Ask the Chef," our (hopefully) periodic column wherein we seek the insights of some of the region's most respected figures in the industry.
This time around, we turn to James Rigato, executive chef at award-winning The Root in White Lake and chef-owner of Mabel Gray in Hazel Park.
Metro Times:
Where are your favorite places for late night eats?
James Rigato:
For me, for late night, it's Telway in Madison Heights. North of 12 Mile in the 'burbs, it's National Coney. Then there's Redcoat, (which) cooks until 1:45 a.m. Shangri La in West Bloomfield does dim sum, but that's super 'burbs. Then there's Plaka Cafe in Greektown and also Campau Tower.
MT:
So a lot of greasy spoon-type places? Any full-service sit down places?
JR:
Actually, the strip clubs are more for full-service dining experience late night, especially Sundays when the world shuts down. You can get a bottle of wine and a server to bring it to you.
MT:
Where are you favorites?
JR:
Trump's and Pantheon are a good time, but Coliseum on Eight Mile is the best.
MT:
Yeah? What's good there?
JR:
Nothing is what I would call "good," but if you want full-service dining with cocktails and ambiance, it's one of your best options late night. Their menu is huge.
MT:
Have you been lately?
JR:
I don't go like I did in my early 20s. But I have a lot of friends that straight up eat there. I did go to Coliseum the other night after dinner to see how it's been lately.
Got a burning question you've been dying to ask a local chef? Send your queries to
[email protected]
and we'll ask away!