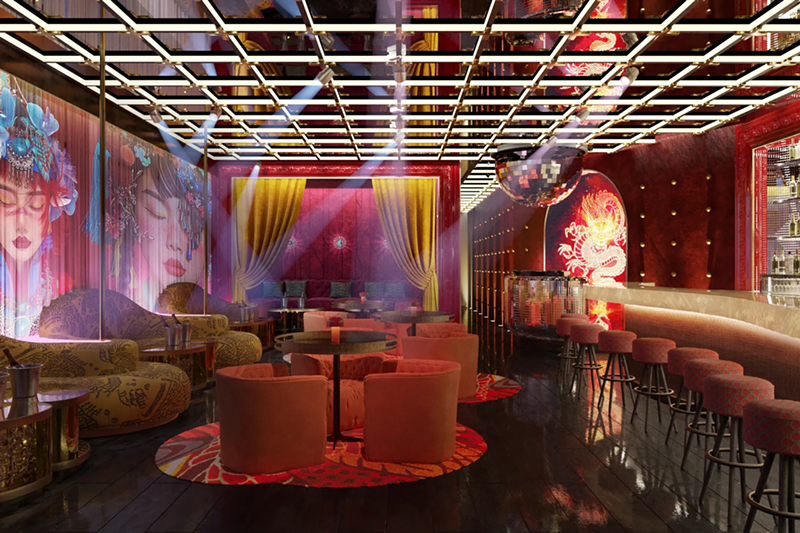 Hand-rolled sushi and other Asian-inspired dishes will be on offer at two new dining concepts in downtown Detroit.
Experience Zuzu and Upstairs Bar are set to open a block from Campus Martius in an office building at 511 Woodward Ave. this July. That's the same building the Capital One Cafe is in.
Experience Zuzu will feature "new Asian" cuisine like wok-fired specialties and dishes cooked in a charcoal oven and wood-fired grill. Above it, the Upstairs Bar will serve craft cocktails, sake, and wine in a lounge setting that mashes techno and a Japanese anime aesthetic, according to a press release.
Renderings of the place look like an over-the-top Tokyo nightclub. Experience Zuzu also has an outdoor patio that looks like it affords an expansive view over Woodward.
Both spots are concepts of Birmingham-based Elia Group's Iconic Collection, which also operates Parc and summertime BrisaBar in Campus Martius, as well as Cadillac Square's Cadillac Lodge during the winter holiday season. The hospitality group's other restaurants include Detroit's Anchor Bar, Birmingham's 220 Merrill, and The Duke at the Kingsley Hotel in Bloomfield Hills.
Coming soon: Metro Times Daily newsletter. We'll send you a handful of interesting Detroit stories every morning. Subscribe now to not miss a thing.

Follow us: Google News | NewsBreak | Reddit | Instagram | Facebook | Twitter