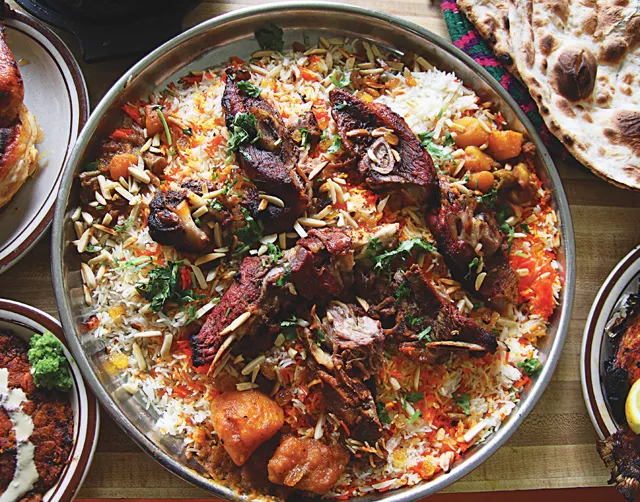 Sheeba Restaurant
8752 Joseph Campau, Hamtramck

313-874-0299
Handicap accessible
Entrées: $5.99-$13.99
Our modern American society can learn a few things from immigrant communities. Besides breaking out from the blue fog of our basement media rooms to develop relationships with neighbors, we could also benefit from cooking meat while it is still on the bone. 
The industrial food industry would have us forget that meat comes from animals, many with basic skeletal structures similar to our own. Check the menu at any of the corporate franchise restaurants growing like weeds from the asphalt of suburban strip mall parking lots. There you can order slabs of bland meat that are then piled with cheese and myriad other foodstuffs meant to make it taste like something edible. We won't even go into the sawdust replicas of meat that are sometimes shaped like dinosaurs and talking cars from Disney films but rarely ever chicken. Thus far pork ribs have somehow largely escaped this war on bones. (Thankfully, some things remain sacred.)
To enjoy meat the way our ancestors did, one generally has to seek a barbecue joint or a small, independent restaurant that prepares food in a tradition where little is wasted. There are quite a few of these places in Hamtramck. You'll find one of them in Sheeba, where they prepare Yemeni cuisine in a small and sparsely adorned building that fronts Joseph Campau on the south side of town.
Inside, orange booths line two walls with a few tables running through the middle of the space. A menu board in Arabic and English hangs above the small counter. The ubiquitous widescreen television sits in a corner broadcasting a Middle East version of CNN on low volume. Groups of children playing soccer in a nearby park or hanging out on the sidewalk occasionally poke their heads inside. There is a curious lack of women. On both of our visits, all of the diners appeared to be regulars. They'd walk in and shout their food order to a young man who literally runs to and from the kitchen. Little English is spoken, and even pointing at the menu doesn't guarantee that you'll receive what you thought you ordered. Fortunately, all the food is good.
Cuisine in Yemen differs from more commonly known Middle Eastern cookery. Main dishes are generally prepared with chicken and lamb; in the coastal regions, fish is a staple. Dairy products such as milk, cheese and butter are rare. There is also prodigious use of fenugreek, a mildly bitter spice that finishes with a smoky, caramel-like flavor (fenugreek is a component in the manufacture of artificial maple syrup flavor).
For a taste of that bone-in meat, order the lamb Haneeth. Succulent, deeply flavored and falling apart, fans of barbecue will instantly recognize the long roasting time that these hunks of flesh have seen. And $22 will buy you a Sheeba combo platter for two that includes the lamb Haneeth along with a gallaba (chunks of lamb, beef or chicken sautéed with onions, parsley and tomato) and another bone-in dish, Masloog. Here the lamb is seasoned and boiled with onions, celery, garlic and spices. All of this is served on a massive bed of seasoned rice with raisins and pine nuts. Frankly, it's enough food for three or four adults.
Baked in a clay oven called a tannour, Sheeba makes excellent flat bread similar to Indian naan. Chewy on the inside and crisp with pockets of deeply roasted dough on the outside, it is excellent as a utensil for dipping into a bowl of seltah, a traditional Yemeni dish of mixed vegetables topped with a fenugreek froth and a medium-hot sauce. Or use the tannour bread to pick up hunks of lamb agdah, roasted with tomato, garlic, onion and jalapeño. It's all hearty, slow-cooked comfort food. 
For breakfast you can order foul mudamas (mashed fava beans topped with tomatoes, onions and tahini) on its own, or with scrambled eggs. For lunch, a 12-inch chicken, steak, liver, lamb or fassolia (kidney beans, tomatoes, onions, garlic and tahini) sub sandwich will run you $5 or $6. 
There is a very small selection of drinks. An insulated dispenser holds sweet, hot spiced tea. There is also a cooler with a variety of soda in cans. They all cost 99 cents. For a buck or two more you can order carrot juice, a banana smoothie or, for $1.50, a frothy and refreshing freshly squeezed lemonade will cleanse the palate between bites. Desserts are baklava, cream pudding and fattah with bananas or honey.
Sheeba Restaurant is not for everybody. Considering the unique dishes and ambiguity of what you're actually ordering because of inadequate language translation, eating a meal there truly feels like a foreign experience. But cultural adventurers will almost certainly find a place to satisfy their urge for good ethnic food — bones included. 
Sheeba Restaurant serves cuisine from Yemen from 7 a.m. to 11 p.m. seven days a week.