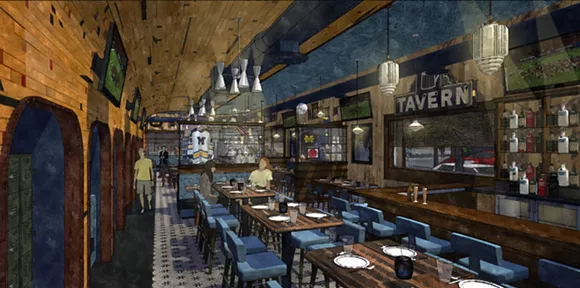 Pretzel Bell was once one of the legendary Ann Arbor sports bars, where college kids gathered to watch the big game and have their first swigs of beer. Alas, the spot, which first opened its doors in 1934, has been shuttered for more than three decades.
But a group of former Michigan athletes, alumni, and restaurateurs have partnered to remake the classic bar and grill, with a plan plan to re-launch April 14 at 226 South Main St.
Fritz Seyferth, Bruce Zenkel, Bruce Elliott, Dugan Fife and Andy Mignery joined restaurateurs Jon Carlson, Greg Lobdell and Chet Czaplicka (behind the now shuttered Lena and Habana, as well as Jolly Pumpkin, Grizzly Peak, Blue Tractor, and Mash) to bring back the spot.
The new Pretzel Bell is to open in the former Lena and Habana. There are no plans to reopen the previous restaurant and nightclub.
"This project has stirred up tons of great memories for everyone involved," says Jon Carlson in a news release. "Pretzel Bell was a large part of the University of Michigan college experience. It's an honor to bring back an Ann Arbor classic."
The 8,000 square foot restaurant will seat approximately 110 patrons on the main level, and another 100 in a downstairs cellar. In keeping with the name, the space's design will have a modern feel with a retro twist, showcasing multiple bells and University of Michigan memorabilia throughout (even segments of a basketball floor will be included).
As for the menu, expect a variety of American fare: the meat and potato features tots, shredded cabernet short rib with gravy, Danish blue cheese and roasted parsnips; a flatiron steak with brown sugar rub, with roasted veggies, and au gratin potatoes; and the Crunch Bird sandwich with pickle-brined fried chicken and gruyere cheese, and topped with Creole mustard and apple slaw. Drinks will include craft cocktails, domestic and craft beers.
Pretzel Bell will be open 11 a.m. to 11 p.m., Monday through Thursday; 11 a.m. to midnight Friday and Saturday; and 10 a.m. to 10 p.m. Sunday.